Alumni bring free, fun activities for children this March Break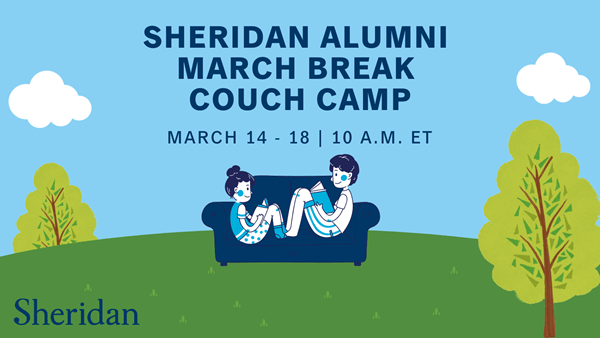 Sheridan's talented alumni are back with the second annual March Break Couch Camp – 60 minutes of free, fun, and educational activities being held every day for five days from March 14-18.
Kids can learn how to craft a donut with personality, play some fun, interactive drama games, draw along with a Disney animator, learn about fire safety, and finish off the week learning a few magic tricks. The one-hour activities will begin at 10 a.m. ET and while they've been planned for kids in the age range of 6-12 years, they are fun for the whole family.

"We understand that parents often have their hands full when kids are at home during March Break. Our alumni, who are leaders in their own fields, step up every year and share their wealth of knowledge, talent and skills with the children in our community to provide exceptional – and fun – learning experiences to them. We're fortunate to have such an engaged and talented alumni community," says Jennifer Deighton, Director of Advancement and Alumni Relations.
Registration is free and open to the public. Participants can register for all events or select the ones that most interest them.
Register here for ALL activities.

Crafting Food with Personality! Monday, March 14 | 10 a.m.–11 a.m.

Join Bachelor of Illustration graduate Leanne Dowdall from Crafty Creatures as she shows you how to get creative with food items! In this virtual workshop, kids will learn how to make a donut with personality and a cinnamon roll character. Crafty Creatures will be shipping kits to your door with six crafts for each child who registers, two of which will be taught at the workshop. Cost is $15+tax (free shipping). Deadline to order is 11:59 p.m. on March 10, as an activity kit will be mailed to you.
Register now for Crafting Food with Personality.


Introduction to Acting: Exploring the Actor's Tools. Tuesday, March 15 | 10 a.m.–11 a.m.
Play some fun, interactive drama games and activities to explore how we can use our body, voice and imagination to create a character. This workshop will be led by Saccha Dennis, Music Theatre '04, a member of Young People's Theatre – the oldest professional theatre company in Toronto – and a national producer and presenter of theatre for young audiences. Recommended for those 6-12 years.

Register for Introduction to Acting.

Storytime with Disney animator and author Benson Shum. Wednesday, March 16 | 10 a.m.–11 a.m.
Disney animator and author Benson Shum (Animation '03) will take you behind the scenes of his new children's book Anzu the Great Kaiju. All great Kaiju are born with a superpower to strike fear in the heart of the city. But Anzu is different. Instead of mayhem, he likes May flowers. Instead of striking fear, he prefers to be sincere. Can Anzu find a way to make his family proud and stay true to his kind self? Benson will read from this heartwarming picture book and do a drawing demonstration. Have any questions about drawing? Bring them to this session and Benson will try to answer them for you!
Register for Storytime with Benson Shum.

Fire Safety Presentation | Prevention, Detection and Escape. Thursday, March 17 | 10 a.m.–11 a.m.
Due to an increase in fires across our regions, Sheridan Alumni is helping bring fire safety to you. Prior to the pandemic, fire and emergency services officers routinely met with students face-to-face during school visits to teach them about fire safety. But since we can't do that right now, we're bringing you to Sheridan graduate and Premier's Awards winner Michelle John (Office Administration – Legal Secretary '90), Fire/Life Safety Education Officer for the City of Brampton. She will lead this virtual session teaching kids about the importance of being fire safe, and how to implement the basics of Fire Prevention, Detection and Home Escape Planning.
The Magic in You: Children's Empowerment Magic Show. Friday, March 18 | 10 a.m.–11 a.m.
What do you get when you combine a laugh-out-loud, virtual magic show, with an empowering, virtual magic class? You end up finding The Magic in You, an entertaining session presented by award-winning magician and former YTV personality, Scott Dietrich (Journalism, New Media '15). Your children will be dazzled by Scott's magic, empowered by learning to perform magic themselves, and even help to magically produce Scott's furry sidekick, Sir Walken, a real magic bunny. Recommended ages 6-12, but fun for the whole family.