Brampton health care leaders urge collaboration and call for a greater focus on training more health care professionals
Roundtable discussion coordinated by Sheridan College brought together local leadership from public health, William Osler Health System, Trillium Health Partners, long-term care, public safety, and other health sector organizations
Health care experts and community leaders in Brampton are putting a spotlight on local health care delivery challenges by recommending a variety of enhancements including putting a greater focus on prevention and upstream care, training more health care workers, building interprofessional understanding and enabling better collaboration within the health care sector.
The virtual summit brought together leading voices from Peel Region and across Ontario to discuss the state of health care in Brampton and potential solutions, including how to create a locally trained health care workforce that meets the unique needs of the community across the spectrum of care, with more of a focus on equity.
Panelists included the Peel Region Medical Officer of Health, representatives from William Osler Health System, Trillium Health Partners, Ryerson Medical School Project, Peel Regional Police, Schlegel Villages, Novo Nordisk Network for Healthy Populations at the University of Toronto Mississauga, Ontario Community Support Association, and Dynacare.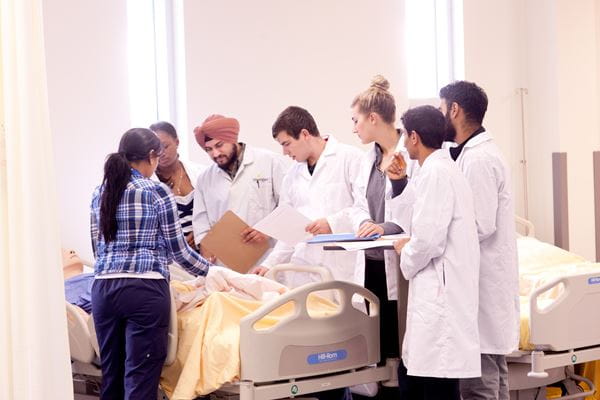 Practical nursing students at the health labs at Sheridan's Davis Campus in Brampton

"This discussion helped illustrate the challenges that Brampton residents are facing – and will continue to face – as they look to access care in the community. The health sector is facing a shortage of skilled health care workers and there is a need for further investment and greater coordination," said Dr. Janet Morrison, President and Vice Chancellor at Sheridan. "We were proud to host this forum to listen to community health leaders from Peel Region and beyond to assess how we continue to play a role in helping to ensure Brampton has the care delivery system it needs over the long-term."
The discussion explored several key challenges that health organizations are facing, including worker shortages for various roles across the sector including those that are clinical, technical, professional, and support oriented. Experiences and learnings from the COVID-19 pandemic in Peel Region have shown that there is a need to better prepare the workforce for emergency situations and redeployment. Other topics explored include:
Training the kinds of health care workers that are needed across the health sector to support people when and where they most need care, across the life course
Increased collaboration between health sector organizations, educational institutions, public health, government, patients, and other sector stakeholders
Putting a greater focus on prevention and upstream care to reduce the burden on acute care
Adopting patient-first thinking and utilizing assets embedded throughout the community
Creating a more integrated health care system and better system navigation for patients, enabled by technology
A greater focus on equity for all members of communities