Sheridan ranks #1 for research partnerships in annual research college rankings
Sheridan has been ranked first for research partnerships in the 2021 edition of Research Infosource Inc.'s annual summary, Canada's Top 50 Research Colleges. Sheridan has ranked in the top five in four different research categories. These figures reflect research activity from fiscal 2019-2020.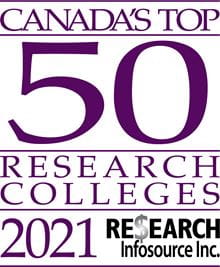 In the category of number of student researchers, Sheridan moved up two spots in 2021 to number two. The college remained in the same position as in 2020 in two categories - number three for completed research projects and number five for industry research income. When considering industry research income as a proportion of Sheridan's total research income, the college moved up two spots to number eight.
"Sheridan firmly believes in the strength of community and industry collaboration and the impact it can make from a local, national and global level. We witnessed tremendous growth in research activity. This included increased engagement of our students in ever-impactful research, but also the continued drive to seek out and steward research partnerships that contribute to our transformational culture of innovation," says Dr. Janet Morrison, Sheridan's President and Vice Chancellor.
A few recent highlights of research projects and partnerships of note at Sheridan over the past year include:
Integrating creative content and digital technology
In participation with the Canadian Opera Company, the National Ballet of Canada and the UK's Royal Opera House, Sheridan's Screen Industries Research and Training Centre (SIRT) provided expertise in the integration of creative content and digital technologies within the arts. SIRT's Digital Stage project is exploring new, collaborative approaches to digital technology to deepen engagement with audiences, share performance art with the world, and innovate business processes.
Virtual life skills management
In partnership with the Halton Region, the Oakville Community Foundation and 14 not-for-profit community organizations, Dr. Sara Cumming, professor from the Faculty of Humanities and Social Sciences, is leading a three-year project that will design, develop, and implement a virtual life skills program for marginalized or precariously housed individuals in Halton that teaches life skills including financial literacy, food literacy, health, and wellness, etc.
Building resilience in small business owners
Garrett Hall and Dr. Sujinda Hwang-Leslie, professors from Sheridan's Pilon School of Business, partnered with Sheridan's EDGE Entrepreneurship Hub on the Building Small Business Resilience (BSBR) research project. BSBR enhances the digital marketing capabilities of small business owners who pivoted online due to the COVID-19 pandemic. The project also aims to create a research-informed digital marketing program prototype to increase equitable, diverse, and inclusive participation in small business sectors.
"I'm thrilled to see Sheridan's research efforts reflected in this year's ranking, most notably in research partnerships and the number of student researchers. We've expanded our partnership reach across organizations in both the private and not-for-profit sectors, boosting our focus on cross-disciplinary research, which has propelled our innovation. Giving our students the opportunity to engage in these research activities provides them with the valuable learning experiences that prepare them for the workforce," says Dr. Vicki Mowat, Director, Research.
To learn more about the innovative research taking place at Sheridan, please visit research.sheridancollege.ca.