Sheridan launches exclusive merchandise at Hudson's Bay in the GTA to support Student Emergency Fund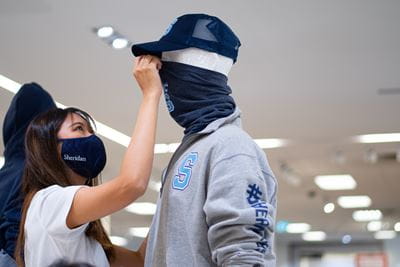 Sheridan is pleased to announce that it has opened pop-up shops at Hudson's Bay in its three campus communities.
The collection ranges from apparel, such as hoodies and t-shirts to merchandise such as umbrellas and notebooks with all profits supporting Sheridan's Student Emergency Fund — a resource for students experiencing urgent financial need. The majority of the collection is available exclusively at Hudson's Bay at Oakville Place, Square One Shopping Centre and Bramalea City Centre.
"The Sheridan pop-up shop, designed by recent Visual Merchandising graduate Minju An, provides current students with an innovative work placement experience in one of Canada's most established retailers," says Louise Franklin, Sheridan's Visual Merchandising Arts program coordinator. "We're thrilled to be able to provide our students with this incredible opportunity to put their skills into practice."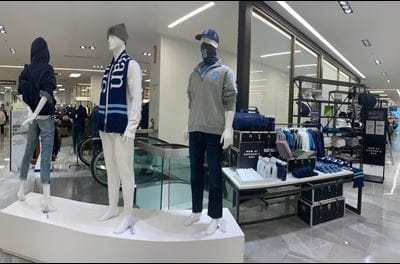 "Sheridan is honoured to be a member of the vibrant communities of Oakville, Mississauga and Brampton," says Dr. Janet Morrison, President and Vice Chancellor at Sheridan. "We hope that members of the Sheridan community – whether they're alumni, students, faculty, or our partners — feel a similar sense of pride to be part of an institution that values collaboration and innovation. Through this collaboration with Hudson's Bay, our community can feel proud to wear a Sheridan 'S' while also supporting students in need."

The pop-ups represent a joint effort amongst Sheridan College, Sheridan Student Union and Sheridan Athletics.

Tracy Liang and Wen Zhang, two second-year students from Sheridan's Visual Merchandising program, will support the pop-up shops, managing ticketing and merchandising of the assortment during its six-month tenure at Hudson's Bay.