Sheridan social venture hub leader named DiverseCity Fellow
Sheridan celebrates the recent recognition of Renee Devereaux, Director, Entrepreneurship & Changemaking at
Sheridan EDGE,
as a
2021 CivicAction DiverseCity Fellow
. Selection for the Fellowship recognizes the leadership role Renee has held in the impact entrepreneurship space across Sheridan and in our region.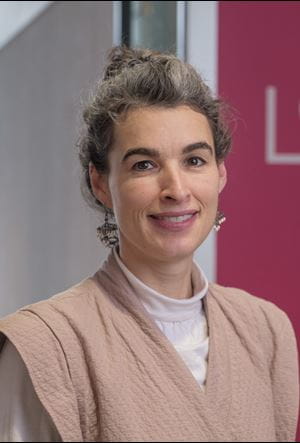 During her time at EDGE, and with the support of FedDev Ontario, Renee has worked to build a shared space of belonging where entrepreneurs and changemakers can tackle society's biggest challenges. EDGE members participate in several dynamic programs, including the Social Impact Catalyst Powered by RBC Future Launch, Rise, and Leap Startup League programs. With initial support from FedDev Ontario and the Province of Ontario, Renee has established collaborations with leading community and industry organizations like RBC Future Launch and Community Foundations across the Halton, Peel and Brant County Regions. EDGE's work fostering entrepreneurial learning and venture development led to its recognition as the 2021 recipient of the Excellence in Student Engagement in Entrepreneurship Award at the Deshpande Symposium.
"Having the chance to learn about city building across sectors within a diverse and inspiring cohort of leaders is a wonderful opportunity," Renee said. "EDGE, and the founders we support care deeply about contributing to an inclusive economic recovery at this critical time. I'm excited to share the networks and knowledge I'll gain from this Fellowship with the EDGE community and beyond."
CivicAction's DiverseCity Fellow program
is a prestigious leadership experience for diverse rising leaders in the Greater Toronto and Hamilton Area (GTHA). The program aims to provide a high-impact and inclusive learning experience for high-potential rising leaders that creates pathways to civic leadership opportunities, with an emphasis on equity-deserving communities. Fellows use personalized leadership development plans and participation in skill-development sessions to build enhanced leadership competencies, explore community engagement, and grow their network.
"At CivicAction, we're focused on building better, more inclusive cities; bringing together diverse, rising leaders from across the GTHA to collectively address the biggest urban challenges we face," said Leslie Woo, CEO of CivicAction. "We're thrilled, in our 12th year of the program, to welcome these outstanding Fellows. These civic all stars are leading our region forward, making it a welcoming place for everyone who calls the GTHA home."
One of Sheridan's six Research and Incubation Centres, EDGE supports changemakers and entrepreneurs as they shape a more equitable, inclusive, and sustainable world. Its commitment to growing social impact ventures in the Peel and Halton Regions have created a thriving local community of purpose-driven entrepreneurs who are tackling complex challenges both locally and globally.
To learn more about the CivicAction DiverseCity Fellow program, please visit:
https://leadership.civicaction.ca/currentandpastfellows/.
To learn more about Renee's work at EDGE, please visit
https://edge.sheridancollege.ca
and
https://twitter.com/EDGE_Sheridan
.