Entrepreneurs and changemakers needed to share great ideas and launch new ventures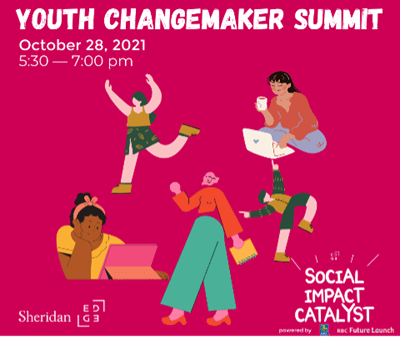 Sheridan is looking for young entrepreneurs and social justice champions with enthusiasm for change and a desire to create a more equitable and sustainable society.
Young leaders are invited to join the Youth Changemaker Summit on Oct 28 to hear from inspiring founders who are redefining what success looks like for our community and economy.
Aspiring young entrepreneurs from Peel and Halton regions who have an idea, project or venture that seeks to tackle climate change and environmental sustainability are also invited to apply to the Social Impact Catalyst powered by RBC Future Launch to receive funding, mentorship and support.

Sheridan's EDGE is open to the public and is a launchpad for social ventures and entrepreneurial learning.


Youth Changemaker Summit
The Youth Changemaker Summit gathers young leaders and purpose-driven entrepreneurs from Halton and Peel regions to learn from one another's stories and experience. The Summit focuses on developing a changemaking mindset while learning what's involved in building an impact-focused venture – whether for- or non-profit. Participants will learn from a panel of inspiring youth founders and can engage in conversations about entrepreneurial ideas, climate change, environmental sustainability and the youth founder's journey.

The Summit, held virtually the evening of October 28, will be hosted by Erin Latimer, a two-time paralympian in para-alpine skiing. Following a six-year career on the Canadian para-alpine ski team which included six World Cup medals and two Paralympics (Sochi 2014 and PyeongChang 2018) Erin retired from sport. She is currently completing an undergraduate degree at the University of Toronto in Environmental Studies and works in corporate sustainability at RBC. The Summit also features women entrepreneurs including: Mylene Tu, Co-Founder, Lumaki Labs; Sofia Bonilla, CEO, HOPE Pet Food; and Noora Sharrab, Co-Founder, Sitti Soap.


Social Impact Catalyst powered by RBC Future Launch
The Social Impact Catalyst powered by RBC Future Launch supports youth changemakers in the Peel and Halton regions who have ideas or ventures that seek to address climate change and environmental sustainability. This 14-week program offers exclusive benefits including a $2,000 honorarium, individual mentorship, learning sessions and membership in a vibrant community. Applications for the Winter 2022 cohort are open until November 5.

"This work exemplifies EDGE's commitment to supporting youth-led change in our communities," said Renee Devereaux, Director of EDGE. "When young people build solutions that are relevant, meaningful, and designed for their communities, they're more likely to have an impact that ripples across our region and beyond. EDGE is driven by a mission to help more youth — both students and those from our community — explore their own entrepreneurial ideas and solutions."

Open to the community, Sheridan's EDGE believes in the power of young changemakers to flourish in and shape a more equitable, healthy and sustainable society. As one of Sheridan's six renowned research and incubation centres, EDGE is proud to partner with RBC Future Launch to support youth taking creative and courageous action. These initiatives are made possible with the generous support of the RBC Foundation.