Sheridan's SIRT explores new artistic possibilities with emerging technologies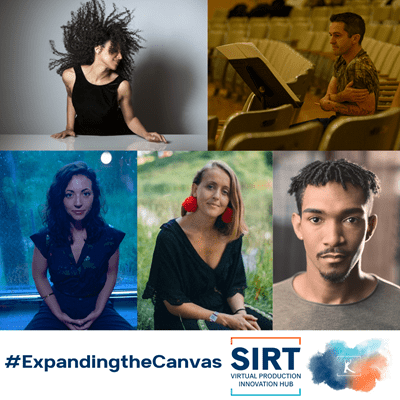 As digital modes of artistic production continue to develop, artists are exploring how innovative digital tools and technologies can be applied in their work. The Screen Industries Research and Training Centre's (SIRT) Expanding the Canvas project provided participating artists access to novel technological tools which they used to explore, augment, and implement a final performance piece of original work.
Expanding the Canvas allowed five selected artists from Canada and the United Kingdom to trial, utilise and evaluate emerging technologies such as virtual reality and projection mapping in their respective creative practices. These artists were selected from an initial cohort who attended a technology workshop hosted by SIRT and then presented proposals to a panel of judges describing how they would integrate technology into their existing artistic practice. Once selected, the five artists met with mentors to determine the specific technologies they would use and how these would be implemented into a performance piece. SIRT provided technical resources, facilities, and support to complete the final recording of the performances. Throughout their journey the artists documented the process in a series of video diaries, shedding light on their interaction with their chosen technology and how it served a final output.
The four Expanding the Canvas projects are Empire of the Wild (Ian Cusson), Project H.U.G. (Nicole Rose Bond), Violet Disruption (David Andrew Reid & Stephanie Singer) and Kinetic Sculpture Garden (Andrea Spaziani).
This international collaboration between SIRT, the Canadian Opera Company, the National Ballet of Canada and the UK's Royal Opera built upon previous research involving the application of digital tools for artistic expression and enhanced accessibility, particularly in the performing arts. The Royal Opera and National Ballet provided artistic mentorship while SIRT contributed the technical expertise, tools and facilities for each artist to execute their vision.
"This project is a natural extension of SIRT's commitment to making virtual production and technology accessible to all industries and artists. Expanding the Canvas is an excellent example of how the arts can be made more accessible using innovative technologies," said David Dexter, Director of SIRT.
Artists selected came from a variety of creative backgrounds including opera, choreography, and modern dance. Expanding the Canvas provided the opportunity for these creatives to explore technologies they hadn't previously been exposed to, creating an exploration of the development of their respective artforms.
The final performances and further information about the artists and their journey can be found on
SIRT's YouTube Channel
.
For more information about SIRT please visit
sirtcentre.com.