Play ball! Sheridan fielding new varsity baseball and softball teams in fall 2022
Sheridan Athletics
announced today that the Bruins will join the Ontario Colleges Athletics Association (OCAA) Men's Baseball and Women's Softball leagues next September. The two new varsity teams will be based at Sheridan's Hazel McCallion Campus in Mississauga.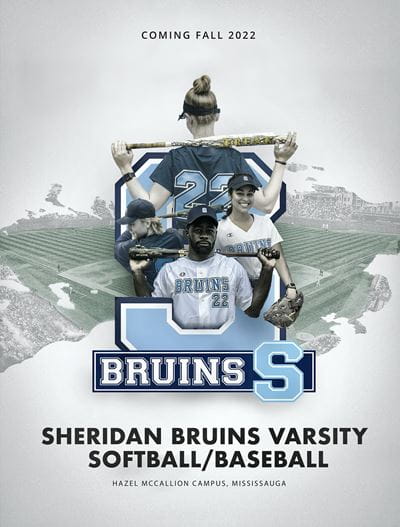 The exciting addition of the women's softball team marks the return of a program that originally ran from 1981 to 1984, ending with a bronze medal finish in the final game. The men's baseball team will begin its first-ever season next spring.
"I am absolutely thrilled to welcome both sports to Sheridan," said Jim Flack, Sheridan's Director of Athletics and Streetsville native. "With the launch of these programs, we wanted to make sure all three campuses had a varsity team that connected them to the spirit of being a Bruin and the greater Sheridan community. Our Davis Campus hosts our basketball team, while Trafalgar is home to our soccer, rugby, volleyball, and cross-country teams. Now it's time for HMC to wear the double-blue."
In the last twenty years, Sheridan has introduced eight new varsity teams to its athletics programs and won multiple national and provincial medals and a long line of OCAA titles.
"Athletics at Sheridan will always be a holistic student-athlete experience," added Flack. "Academic and athletic achievement go hand-in-hand. Introducing the two new teams to our institution gives student-athletes more opportunities to come to Sheridan, become eligible for scholarships and receive a world-class education. It's not just about baseball or softball, but it's also making students feel excited about being part of something active and fun."
Adding baseball and softball to Sheridan's varsity league also gives students more opportunities to develop a stronger relationship with the community beyond its campuses. Expanding Sheridan's athletics program into Mississauga further allows students to get involved, support fellow students and cultivate a sense of belonging.
Sheridan Athletics will begin its search for coaches for the two new varsity teams in November and has already started scouting for baseball diamonds in Mississauga for practices and games. Student-athletes can expect recruitment and tryouts to begin next spring.