Sheridan recognized as 'COVID Wonder' for community partnership with Big Brothers Big Sisters of Peel
Sheridan has been recognized by Big Brothers Big Sisters of Peel (BBBSP), in honour of the college's support for the Bigs on Campus Mentorship Program during the pandemic. The distinction was announced at BBBSP's 2021 "Evening of Wonder" virtual Gala Celebration on Friday, September 24, which recognized top volunteers, donors, and partners in the Peel community.

Sheridan was one of six organizations recognized as a 'COVID Wonder' for its contributions towards the mentoring program, delivered in partnership with BBBSP. The program ran virtually from October to April and allowed youth to continue receiving the support and mentorship they needed to thrive despite the challenges of the pandemic. Seven Sheridan students participated as mentors last year, and six members of faculty and the student population took on guest speaker roles.

The program curriculum focuses on building the skills of the young mentees and preparing them for postsecondary, all while fostering quality relationships with their mentors. Fourteen mentees, ages 9-13 participated last year, meeting with their mentors on a weekly basis.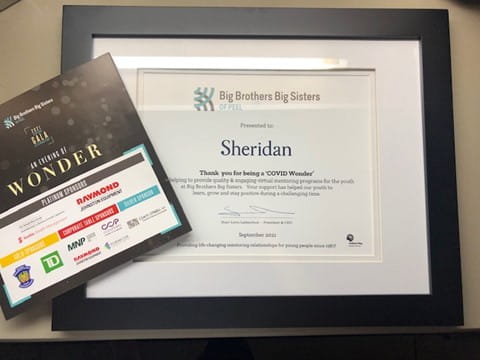 The program was made possible through the dedication of Sheridan student and employee volunteers. One such volunteer is Harris Huska, a Sheridan professor from the School of Public Safety in the Faculty of Applied Health and Community Studies, who will be returning this fall after participating in the program as a guest speaker.

"I am honoured and glad to be asked to return to this worthwhile community engagement opportunity," says Huska. "Prior to my teaching position with Sheridan College, I was a 33-year veteran with the Peel Police. The Big Brothers and Big Sisters organization was a valued relationship within the police community, and I was proud to represent my service through this organization when asked. I have enjoyed the opportunity to reconnect through the Bigs on Campus Mentorship Program, where I get to plant the thought of postsecondary opportunities and values that we share with our students every day."

"Last year was our first year running the Bigs on Campus Program and it's been a wonderful partnership for us at Sheridan," says Karen LeMoine, Director of Community Engagement and Stakeholder Relations at Sheridan. "We can't wait for the day where we can welcome all the young mentees to our campus and give them an even more immersive glimpse into the possibilities of postsecondary education for their future."
"Over the past year BBBSP and Sheridan College have developed a valued partnership," says Erin Dale, Community Engagement Specialist at Big Brothers Big Sisters of Peel. "The successful virtual launch and delivery of our Bigs on Campus program brought Sheridan students and BBBSP mentees together during a time when so many of our youth were dealing with added stress and uncertainty due to the pandemic. We are excited to grow our partnership in the years ahead."
The Bigs on Campus Mentorship Program is part of Youth Amplified, a suite of community initiatives rooted in Sheridan's mission to unlock the transformative power of education – and help young people in our local campus communities forge a path to postsecondary studies.
"Youth Amplified is one piece of Sheridan's bold vision for transforming postsecondary education: we are committed to breaking down systemic barriers to postsecondary access for learners," says LeMoine. "By working together through more outreach and engagement initiatives with community partners like Big Brothers Big Sisters of Peel, we can amplify our positive impact in the lives of local youth and campus communities."

The Bigs on Campus Mentorship Program will be running virtually again this year and numerous students have already volunteered as mentors. Sheridan and BBBSP will also be collaborating to run a Black Youth Mentorship Program, a 12-week program that helps Black youth explore their identity and various pathways of education with other Black elementary and high school students across Peel Region.

Learn more about Youth Amplified at Sheridan and how you can get involved by visiting the Youth Amplified page.
Pictured above: Shari Lynn Ladanchuk, President and CEO of Big Brothers Big Sisters of Peel, announces Sheridan as one of the award winners at the 'Evening of Wonder' virtual gala on September 24.