Sheridan CommUNITY clinic administers over 35,000 doses at closing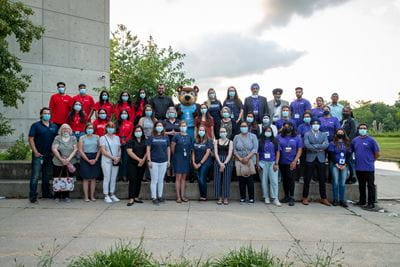 Over 35,000 COVID-19 vaccinations were administered at the closing of Sheridan's CommUNITY COVID-19 vaccination clinic on Thursday, July 29.

A true community initiative, the clinic – located at Sheridan's Davis Campus in Brampton – featured an extraordinary collaboration between Sheridan, the Region of Peel, Indus Community Services, Punjabi Community Health Services, the Latin-American COVID-19 Task Force and the Government of Ontario.

Together, these organizations worked to reach under-vaccinated communities in the diverse neighbourhoods surrounding Sheridan's Davis Campus in Brampton. The clinic was designed to be welcoming and barrier-free, making vaccinations more accessible to the surrounding community within Peel – an area that has been hit particularly hard by the COVID-19 pandemic. Throughout its operations, organizers engaged directly with local community members, connecting them to the clinic and volunteering to provide non-clinical support on site.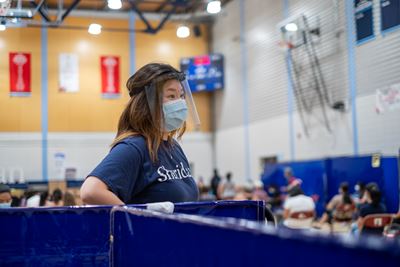 Operating initially as a first-dose clinic, the Sheridan CommUNITY clinic opened on May 28, during the height of the pandemic's third wave, and administered 9,424 doses in 17 days. Following the close of the first dose clinic in mid-June, data from the Institute for Clinical Evaluative Sciences showed that L6Y – the targeted postal code — had achieved the highest percentage vaccine uptake in the entire Region of Peel.

The overwhelming response from the Peel community enabled organizers to extended the first dose clinic operations several times, host a Region of Peel capacity clinic from mid-June to mid-July, and launch a second-dose clinic which began on July 17.

"We are beyond grateful to have had the opportunity to give back to the Peel community, and to have played a part in the largest mass vaccination effort in Canadian history," said Karen LeMoine, Sheridan's Director of Community Engagement and Stakeholder Relations. "The onset of the COVID-19 pandemic has sharpened our focus on fostering health and wellness at Sheridan and its campus communities, and through working together with our community partners in the Region of Peel, we're equipped to recognize opportunities for growth, collaboration and meaningful change."
"Finding trusted locations where clinics can be hosted is key to our vaccination efforts. In Sheridan, we found not only a trusted location, but partners who worked tirelessly to reach out into the community and provide a positive, welcoming space for people to get their vaccine," said Dr. Monica Hau, Associate Medical Officer of Health, Peel Public Health. "Such partnerships are critical, particularly as we enter the last mile of our vaccination journey."
Over the course of 55 total clinic days this summer, the CommUNITY clinic welcomed individuals who lived, worked or studied in the Region of Peel, including many Sheridan students, alumni, faculty and staff. Several government officials took the time to tour the clinic and show their support, including the Honourable Marco Mendocino, Canada's Minister of Immigration, Refugees and Citizenship; Brampton Members of Parliament Sonia Sidhu, Ruby Sahota, Kamal Khera and Maninder Sidhu; the Honourable Jill Dunlop, Minister of Colleges and Universities; the Honourable Prabmeet Sarkaria, President of the Treasury Board and MPP for Brampton South, MPP Amarjot Sandhu; Regional Councillor Martin Medeiros, City Councillor Jeff Bowman; and Dr. Lawrence Loh, Peel Medical Officer of Health.

The clinic was run by the Ministry of Health in conjunction with Peel Public Health in accordance with stringent health and safety standards. Nearly 130 staff and volunteers from the partnering organizations helped provide non-clinical support onsite.

Sheridan is proud to continue collaborating with its partners on Canada's mass vaccination effort in the battle against COVID-19.
Learn more about how Sheridan and its community partners came together for the Sheridan CommUNITY Clinic.