Sheridan's EDGE Entrepreneurship Hub receives prestigious Rising Star Award
Sheridan's EDGE Entrepreneurship Hub is the recipient of the prestigious Rising Star Award for Excellence in Student Engagement in Entrepreneurship at the Deshpande Symposium on Innovation & Entrepreneurship in Higher Education. Sheridan is the first Canadian institution to receive this honour.

With this award, the Deshpande Symposium Awards Committee have recognized EDGE for best exemplifying the spirit of commitment to develop innovative extra- and co-curricular activities and programs that encourage student leadership and engagement in entrepreneurship across an institution. Renee Devereaux, EDGE's Director, and Besma Soltan, EDGE's VenturED Program Lead, accepted the award virtually on Sheridan's behalf.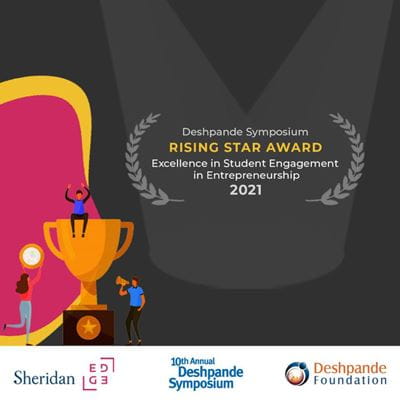 "This award is a reflection of growing momentum from students and faculty who bring forward creative ideas for both impact ventures and curricular collaborations that develop entrepreneurial skills," says Devereaux. We're very grateful for the recognition as well as the opportunity to continue to grow our impact at Sheridan and in the community."

Since opening its doors in March 2018, EDGE has provided a wide array of programs and services that continue to foster an innovation ecosystem among Sheridan students, alumni, faculty and staff, as well as with aspiring impact entrepreneurs from the community. Ideas are fueled by services that include mentorship, training and co-working space.

"EDGE continues to be recognized for their dedicated and passionate efforts in creating vital mentorship and training supports for Sheridan students, says John Helliker, Dean of Innovation at Sheridan. "What an incredible achievement that further solidifies their role as leaders both nationally and internationally in impact entrepreneurship and innovation."

"We honored Sheridan College's EDGE Incubator with this year's Rising Star award for their exemplary efforts to involve students and the significant impact their programming has made in a short period of time. The Deshpande Symposium Rising Star Award highlights programs that show potential and innovation, which Sheridan College so strongly exemplifies," said Deshpande Foundation Executive Director Raj Melville. "We're excited to see the program grow and look forward to their continued participation in the Deshpande Symposium."

Co-founded by the Deshpande Foundation and the University of Massachusetts Lowell in 2012, the Deshpande Symposium on Innovation & Entrepreneurship in Higher Education brings together academics, policy planners and practitioners to discuss best practices in integrating entrepreneurship throughout their college and university communities. Previous winners of the Rising Star Award have included Kent State University and Abilene Christian University.
---