Sheridan and City of Mississauga unveil Pride Bench near Hazel McCallion Campus
Today, Sheridan and the City of Mississauga unveiled a rainbow Pride Bench in Scholar's Green outside of Sheridan's Hazel McCallion Campus. Inscribed with the words, "Helping bring the LGBT+ community together," the bench was donated to the city by the Pride Committee of Peel.



"My hope for these Pride benches is that they will create a safe space for people – especially young people and those who are coming out," says Sonya Shorter, former Chair of the recently retired Pride Committee of Peel. "We want you to know it's okay to be here, and it's okay to be who you are. We've got your back."
The Pride Bench unveiling is one of a series of special events hosted by Sheridan as the college marks Pride Month. Events were thoughtfully organized by Sheridan's Building Positive Space Committee – a consortium of students, faculty and staff from the LGBTQ+ community and allies. To mark the occasion, the Library and Learning Services team compiled supports, stories and a Pride Guide for the community.
"We all share responsibility for cultivating an equitable and inclusive community, and we look forward to Pride Month each and every year," says Dr. Janet Morrison, Sheridan's President and Vice Chancellor. "Diversity is one of our greatest strengths. Pride is an important opportunity for us to reflect on how each of us can help foster a sense of belonging, respect and equity for all while creating space to educate ourselves and amplify marginalized voices."
Principles of equity and inclusion are vital to the fabric of Sheridan's vibrant campus community. The bench will be a permanent fixture that symbolizes the importance of acting on these principles and finding opportunities to elevate the voices of the LGBTQ+ community.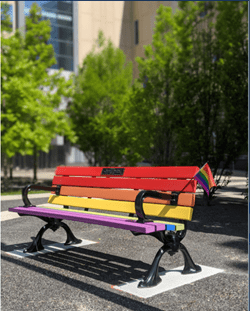 "Thank you to the Pride committee for their generous donation," says Bonnie Crombie, Mayor of Mississauga. "Equity, diversity and inclusion are core priorities for our city. We are proud to have a permanent and public symbol of our strong support for the 2SLGBTQ+ community right next to Sheridan's Hazel McCallion Campus. Thank you to our partners at Sheridan for proudly unveiling the bench and joining us in celebrating the diversity that makes Mississauga such a great place to live, work, study and play."

Progress at Sheridan in support of the LGBTQ+ community
Year-round, Sheridan continues its commitment to creating equitable and inclusive spaces where all members of the community can thrive.
Earlier this year, Sheridan
partnered with Pride at Work Canada
to develop new hiring and learning initiatives that further Sheridan's ongoing efforts to foster a culture in which every person feels valued and respected. Other steps Sheridan has recently taken to further LGBTQ+ inclusion include a
simplified process
for name and/or gender changes, and the diversifying of boards and senior management positions to achieve gender parity and significant representation of other underrepresented groups.
---
Pictured above right: The rainbow Pride Bench in Scholar's Green outside of Sheridan's Hazel McCallion Campus in Mississauga, Ont.