Sheridan launches over 7,600 graduates in virtual convocation celebration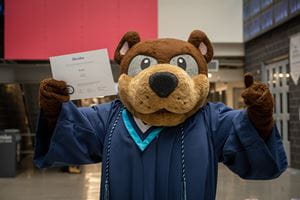 7,600 students are set to graduate in the fields of business, the arts, community studies, applied health, the humanities as well as applied science and technology during Sheridan's convocation celebration.
Sheridan's newest alumni will be celebrated in an online event due to ongoing COVID-19 provincial restrictions. Separate ceremonies will be held for each of the college's six Faculties and Continuing and Professional Studies. The ceremonies will begin at 10 a.m. and will be available for viewing at convo.sheridancollege.ca
"The last fifteen months have been a learning experience for all of us, and I'm so proud of the determination our students have shown in successfully completing their program in the midst of these unprecedented circumstances," said Dr. Janet Morrison, Sheridan's President and Vice Chancellor. "Resilience and grit are qualities we strive to nurture in our students, and their success in reaching this point assures me that we are advancing that goal."
This convocation will feature an original work by Sheridan's inaugural Poet Laureate, Sara Ibrahim. Ibrahim is part of the first cohort of the graduating students from the Honours Bachelor of Creative Writing & Publishing program, who will be celebrated in today's ceremony.
Other highlights include the awarding of the Governor General's Academic Medal to Sevhan Acar Hammudeh. The Collegiate Bronze medal is granted to the student who achieves the highest overall average upon graduation from a diploma-level program; it is the most prestigious academic award that a student can receive from an educational institution in Canada.
The ceremony also includes video greetings from Sheridan's Chancellor, Hazel McCallion, and congratulatory messages from Sheridan alumni.
"We are passionate about postsecondary education because we know it transforms people, families and communities," said Dr. Morrison. "It's not just that graduates enjoy higher rates of employment and greater earning power; it's that an investment in higher education propels people to be healthier, more engaged, conscious citizens in our democracy - which is more important now than ever before. We take great pride in celebrating our newest Sheridan alumni."
Sheridan also celebrates the spring 2021 valedictorians: Thang Vu (Faculty of Animation, Arts and Design), Eleanor Miller (Faculty of Applied Health and Community Studies), Astha Veghela (Faculty of Applied Science and Technology), Brianna Wodabek (Faculty of Humanities and Social Sciences), Ashley Vien (Pilon School of Business), and Elke Break (Continuing and Professional Studies).
Graduates were invited to submit personal messages and photos to thank their family, friends and faculty, which will be displayed throughout each ceremony.
Graduates are receiving a convocation celebratory box in the mail which includes the student's degree, diploma or certificate and stole, as well as an embossed notebook (with their faculty name), Sheridan keychain, alumni pin, and information about alumni and career services. Those who have earned honours or high honours or completed the Board Undergraduate Certificate in Creativity and Creative Problem-Solving will receive honour cords to reflect their achievement. Students with the best academic record in each program will also receive a Board of Governors Silver Medal in their celebration box.
Self-identified Indigenous students also receive sweetgrass.
Graduates are invited to celebrate their success on social media with customized Instagram filters and games, Facebook frames, Giphy stickers, Zoom backgrounds and more.
Sheridan continues to plan for interested graduates to cross the stage at a future in-person convocation ceremony.