Get your shot at Sheridan: Pop-up COVID-19 vaccine clinic to open at Davis Campus in Brampton
Sheridan, the Region of Peel Public Health, Indus Community Services, Punjabi Community Health Services (PCHS), the Latin-American COVID-19 Task Force and the government of Ontario are joining forces to open a pop-up COVID-19 vaccine clinic at Sheridan's Davis Campus in Brampton. The CommUNITY clinic will run from Friday, May 28, to Sunday, June 6. Starting today, residents of, or people working or studying in, Peel Region ages 12 and up can book their appointment online.
Peel Region has been severely impacted by COVID-19, with many communities experiencing high positivity rates of the virus. Community pop-up clinics have proven to be an effective way to reduce the barriers experienced by people living in COVID-19 hotspots and increase access to the vaccine. Ontario's Ministry of Health and Peel Region Public Health have identified Sheridan's Davis Campus as an ideal community hub to target the surrounding hot spot neighbourhoods, which are home to many essential workers, vulnerable and marginalized persons, and international students.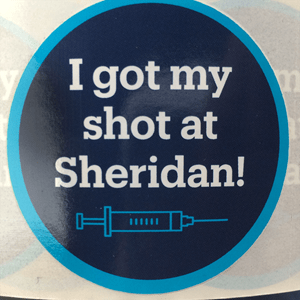 "Sheridan is honoured to play a part in the largest vaccination effort in Canadian history, which furthers our role as a key anchor institution in Brampton," says Dr. Janet Morrison, President and Vice Chancellor. "We are grateful for the opportunity to work with local community partners to ensure we reach our target populations and make our joint clinic as barrier-free as possible."
"Having just surpassed 1 million vaccines doses in Peel we continue to work towards our goal to vaccinate as many people as possible against COVID-19," says Dr. Lawrence Loh, Medical Officer of Health, Region of Peel Public Health. "Working with partners like Sheridan College, community-serving organizations and the Ontario government helps us create supportive environments for people, with a focus on some of our most vulnerable residents like international students, who have not yet received their first dose to feel confident in doing so."
"Indus Community Services is proud to play a role in this initiative together with our fellow community agencies, the Region of Peel Public Health and Sheridan," says Gurpreet Malhotra, Chief Executive Officer of Indus. "This pop-up clinic is an integral part of the support that the community requires to increase access to vaccinations in Peel. We look forward to continuing these partnerships to ensure the health and safety of our community."

"Serving the community in innovative ways is very important during these tough times. We are very proud to lend our expertise and outreach support during the pop-up clinic," says Baldev Mutta, Punjabi Community Health Services Chief Executive Officer. "Addressing equitable access for our community members is important so that all of Peel's residents are able to receive vaccinations in a manner and place acceptable to them. We will continue to work together for successful and effective partnerships."
The clinic will take place at the Sheridan Bruins Athletic Complex on Davis Campus at 7899 McLaughlin Road.
It will be run by the Ministry of Health in conjunction with Peel Public Health in accordance with stringent healthy and safety standards. Indus Community Services, PCHS, the Latin-American Covid-19 Task Force and Sheridan are engaging with local community members, connecting them to the clinic and volunteering to provide non-clinical support on-site.
Leadership from Sheridan, PCHS and Indus Community Services will be onsite on Friday, May 28 from 2-3 p.m.
Media requests for interviews can be made to carolina.salcedo@sheridancollege.ca.
To book your appointment and for more information about the clinic, please visit sheridancollege.ca/vaccine.
---
Community partners: