Signing of the Okanagan Charter confirms Sheridan's establishment as a health-promoting institution
At a virtual ceremony earlier today, Sheridan announced its participation as a signatory of the Okanagan Charter, which calls on Canadian postsecondary institutions to embed health into all aspects of campus culture and to lead health promotion action and collaboration locally and globally. Wellness and health promotion have long been prioritized at Sheridan, and the signing of the Charter accompanied by the launch of a campus-wide wellness strategy, affirms its commitment to ongoing action to improve wellness for employees and students.
In attendance at the virtual event was Associate Director of Health Promotion Jennifer McCorriston from the University of Waterloo – a Charter institution. She welcomed Sheridan to the collective of universities and colleges across Canada that are similarly committed to infuse health into their everyday operations, business practices and academic mandates.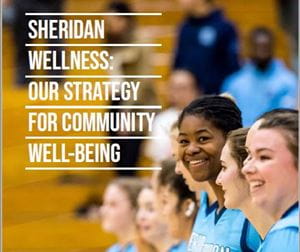 The wellness strategy, Sheridan Wellness: Our Strategy for Community Wellbeing, will serve as a roadmap for the college to fulfill tenets of the Charter. It was developed using a consultative and collaborative process with multiple opportunities for employees and students to contribute their voices. Its components include a whole systems approach, healthy supportive environments, promoting lifelong wellness, and inclusive wellness services, each with corresponding one-year action items.

"It's a momentous day on Sheridan's years-long journey to meaningful wellness action and impact," says Dr. Janet Morrison, President and Vice Chancellor. "Fostering community wellness is foundational to delivering ground-breaking, standard-setting educational experiences for our learners and to remain an employer of choice. It's particularly significant that we're concretizing this commitment during a pandemic, when wellness is of utmost concern."

The virtual ceremony also included keynote speaker, David Ip Yam – a higher education professional and leadership educator. He currently serves as the Director of Career Education and Development at York University and will soon be Dean of Students at Centennial College. His remarks drew from his years of experience helping professionals feel energized about their craft and clear about their process. He spoke to Sheridan employees about how energy management plays a key role in fostering wellness and how we can all learn to take a step back, replenish and renew our energy to enable greater wellbeing at work.

Throughout Bell Let's Talk Week, which runs from Jan. 25 to 29, Sheridan is hosting a variety of events in conjunction with its Counselling and Health Promotion team, Human Resources team and the Sheridan Student Union. These include a Gratitude Webinar, Let's Talk Mental Health and a Mindset Makeover webinar.