Sheridan receives more than $4.5M in provincial funding for integral campus facilities and equipment projects
At a virtual event earlier today, Oakville MPP Stephen Crawford announced $4,740,600 in funding for Sheridan from the Ministry of Colleges and Universities' Facilities Renewal Program (FRP) and College Equipment & Renewal Fund (CERF). Both will help fuel Sheridan's ongoing updates to learning and workspaces and ensure equipment remains in good repair and reflects industry standards.
"I am delighted that our government has been able to invest $1.299 million for the College Equipment & Renewal Fund and $3.44 million for the Facilities Renewal Program for Sheridan College," says MPP Crawford. "By acquiring valuable skills and knowledge, Sheridan's students are well equipped to build rewarding careers in today's workplace."
The funds are being slated at Sheridan to electrical upgrades, roofing replacement, 3D printers, virtual reality technology, simulated patient mannequins, microscopes and more. Repairs and equipment will impact a range of programs across all five faculties.
"The FRP and CERF funding is of utmost importance to ensure that our students and the faculty and staff who support them, are working in optimal learning environments and with equipment that's relevant to their areas of study," says Dr. Janet Morrison, Sheridan's President and Vice Chancellor. "We applaud the Government of Ontario for the financial support so we can continue to execute our mandate of providing high-quality education to graduate the next generation of industry-ready workers."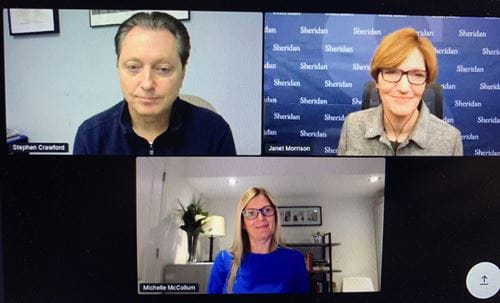 Pictured above (top left, clockwise): MPP Stephen Crawford, Oakville, Dr. Janet Morrison, President and Vice Chancellor, Sheridan College, Michelle McCollum, Associate Vice President, Capital Development and Facilities Management, Sheridan College.