Sheridan's Canadian Music Theatre Project unveils virtual festival format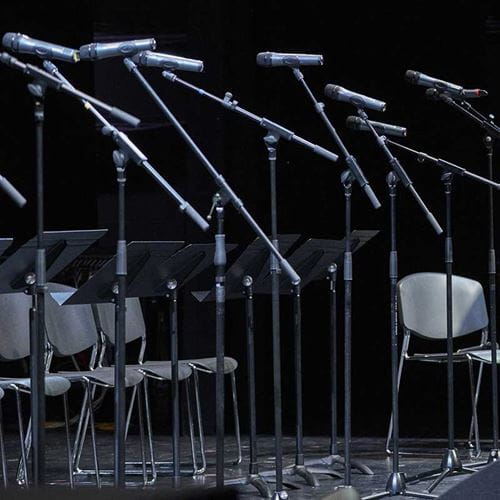 The Canadian Music Theatre Project (CMTP) at Sheridan College is excited to announce a unique moment in its nine year history – the 2020 Festival of New Musicals will be presented virtually. Forty-five minute presentations of Almost A Full Moon, burden of proof and Living the Dream will be streamed live to YouTube on Sunday, October 18 as the culmination of the 2020 CMTP workshop process.
In a year unlike any other, students and creative teams have pivoted and adjusted their formats to the online medium we increasingly live in. Each piece will be presented with live commentary from its creative team and will remain online for public viewing until 9:00PM (ET) on Sunday, October 25.
"As the world's leading musical theatre incubator, it was incumbent that we continue to lead in this space." said Michael Rubinoff, Producing Artistic Director. "An online presentation creates an entirely new challenge for our students and creative teams, they have risen to the challenge and we look forward to sharing these new and exciting works with audiences from around the world."
The schedule for the 2020 CMTP Festival of New Musicals is as follows:
Sunday, October 18, 2020 (Eastern Time):
2:00PM – Living the Dream premiere (live reading)
5:00PM – burden of proof premiere
8:00PM – Almost A Full Moon premiere
Connect to the virtual Festival.
The 2020 Projects are:
Almost a Full Moon
Music & Lyrics: Hawksley Workman
Book: Charlotte Corbeil-Coleman
Director: Daryl Cloran
Music Director: Ryan deSouza
Commissioned by the Citadel Theatre, Almost a Full Moon is inspired by the beloved Christmas album by Canadian singer/songwriter Hawksley Workman. The play incorporates Workman's songs in three storylines that chase in and out of different ages of Christmas, love, and family, winding together for a timeless story.
Hawksley Workman is a JUNO Award-winning singer-songwriter and multi-instrumentalist. A staple of the Canadian music scene for over 20 years, Workman boasts a catalogue of 17 releases, and has performed over a thousand shows worldwide, headlining prestigious venues like Massey Hall and The Olympia in Paris. As a producer, his fingerprints grace releases by JUNO and Polaris Prize nominees and winners like Tegan and Sara, Serena Ryder, Hey Rosetta!, and Great Big Sea. He's also penned melodies with a myriad of artists, from Oscar award winning Marion Cotillard to the late French rock icon Johnny Hallyday.
Workman co-wrote and performed an award-winning one-man cabaret theatre show called The God That Comes, which debuted in 2013 to rave critical reviews and sold-out crowds. The show quickly gained international attention including successful runs at Tarragon Theatre in Toronto, Edinburgh Fringe Festival, New Zealand Festival and Arhus Festival in Denmark. In 2018 Hawksley received a Stirling Award nomination, Outstanding Score of a Play or Musical for The Silver Arrow at Edmonton's Citadel Theatre. And in 2019 had his Stratford debut as Composer for The Neverending Story.
Charlotte Corbeil-Coleman is a Dora Award winning and Governor General nominated playwright. Winner of The Herman Voaden National Playwriting Award, and of the K.M. Hunter Artist Award, she graduated from the playwriting program at The National Theatre School of Canada. She writes for theatre, film, and television. Selected credits include: The End of Pretending (Summerworks, Regent theatre) Scratch (Factory Theatre, La Licorne, Theatre Plexus, Off-Broadway Players). Sudden Death, (Next stage). Twisted with Joseph Jomo Pierre (Factory Theatre). Charlotte directed and co-created Highway 63: The Fort Mac Show (Arts and Culture Tour of NL and Labrador, Theatre Passe Murialle 2011). She wrote for CBC Radio's Afganada and for the Showcase TV series KING. Charlotte's most recent play, Guarded Girls, won the Dora Mavor Moore award for Outstanding New Play and premiered at Tarragon Theatre. Charlotte is currently writing the book for a new musical based on Hawksely Workman's album Almost a Full Moon and writing for the new TV series Safehaven (Landmark, Crackle). She also has a new family show in development at the CBC.
Daryl Cloran is the Artistic Director of the Citadel Theatre in Edmonton, one of Canada's largest regional theatres. Daryl has also been the Artistic Director of Western Canada Theatre (Kamloops, BC) and Theatrefront (Toronto).
Daryl has directed internationally in countries such as South Africa and Bosnia & Herzegovina, and at theatres across Canada, including: Shaw Festival, National Arts Centre, Theatre Calgary, Neptune Theatre (Halifax), Arts Club Theatre (Vancouver), Canadian Stage and Tarragon.
Daryl's Beatles-infused adaptation of As You Like It has played at Bard on the Beach (Vancouver), Royal Manitoba Theatre Centre (Winnipeg), the Citadel, and next season will be performed at Chicago Shakespeare Theater and Milwaukee Rep Theater. It was the best-selling production in the 30-year history of Bard on the Beach, and won the Jessie Award for Outstanding Musical.
Daryl's work has been nominated for awards across the country, including: Doras, Jessies (Vancouver), Sterlings (Edmonton), Evies (Winnipeg), Bettys (Calgary), SATAs (Saskatoon) and Merritt (Halifax) awards. He is also the proud recipient of the Canada Council's John Hirsch Prize for Outstanding Emerging Theatre Director.
Ryan deSouza is currently in his 20th season as the Associate Music Director at the Shaw Festival where he has music directed shows including The Russian Play, A Christmas Carol, Peter and the Starcatcher and One Touch of Venus, and has composed for several productions including An Octoroon, Engaged and Hotel Peccadillo. Ryan has had the pleasure of music directing shows across the country including the Grand Theatre, Canadian Stage, Sheridan College, Mirvish Productions, Ross Petty Productions and Stage West Calgary. He has accompanied international recording artists Andrea Bocelli, Jennifer Hudson, and The Tenors, and has worked as the audition pianists on several Toronto productions including We Will Rock You, Lord of the Rings, Dirty Dancing and Hairspray. So thrilled to be back at Sheridan working on another new Canadian musical!!
---
burden of proof
Music: Scott Christian & La-Nai Gabriel
Book & Lyrics: Rob Kempson
Director: Esther Jun
Music Director: Lily Ling
Supported by the Keith and Sharon Segal Fund for International Musical Development

burden of proof explores the challenges met by LGBTQ+ refugee claimants in Canada. Queer refugees who come to Canada after fleeing oppressive, homophobic homelands have often spent their lives trying to hide their sexuality or gender identity for fear of persecution. However, when they arrive here, they must prove their queer identity to claim status as a persecuted minority. It's an impossible question: how do you prove your identity without ever practicing it? How can you communicate who you are without ever having a chance to know for yourself? This question burdens not only the queer community, but all of us.
Scott Christian is an award-winning Musical Director, Composer and Pianist. As a composer, his original musical A Misfortune had its professional premiere at the 2017 Charlottetown Festival. His first two musicals were part of the Toronto Summerworks Festival - Hero & Leander (2011) and Through the Gates (2012). His newest musical Dead Reckoning (written with Lezlie Wade) was slated to be presented in concert off-Broadway at La MaMa Experimental Theatre Club, but was postponed due to Covid. Selected Musical Director credits include Carmen (Opera, Loose Tea Theatre Toronto), Ring Of Fire (Thousand Islands Playhouse), A Misfortune, Glenda's Kitchen, The Dream Catchers, and The Voices of Canada (Charlottetown Festival), Once, Shrek and The Addams Family (Neptune Theatre), Snow White (Drayton Entertainment), Company (Theatre 20), Rocky Horror (Sudbury Theatre Centre), Marry Me A Little (assistant MD, Tarragon Theatre), The Way Back To Thursday (orchestrator/MD, Theatre Passe Muraille), and Second City Toronto. He is a graduate of the University of Toronto's Faculty of Music for piano and composition and is currently completing his master's degree in composition from York University.
La-Nai Gabriel is a proficient multi-instrumentalist, arranger, composer, and sound designer. She is a graduate of the Music Studies program at Humber College in Toronto, and the Sound and Music Recording program at Recording Arts Canada in Montreal. In addition to performing extensively in Canada and internationally in the United States, Japan, United Kingdom, and Southeast Asia, La-Nai has been featured as a music director and arranger for commercial and artistic musical projects as well as a songwriter and composer for her own work.
La-Nai is featured on recordings by Madame Gandhi (Saxophones on "Set Me Free"), T. Thomason (Keyboards on "King of Spades"), and Prince Amine (vocals on "Doubted Child" album). She has arranged winds, strings, and vocals for a diverse array of artists including Maylee Todd, Gary Beals, Leah Allyce Canali, and Maya Killtron. Her arranging work is featured on three songs on artist and activist Vivek Shraya's 2017 Polaris Prize long list nominated album "Part-Time Woman" featuring Queer Songbook Orchestra.
La-Nai is currently working on a new EP and composing instrumental electronic music under the name laaain. Currently, La-Nai lives with her wife in Montreal, Quebec.
Rob Kempson is a theatre artist and educator, working primarily as a director and playwright. Selected Writer/Director: Trigonometry (timeshare/Factory); Mockingbird (Next Stage Theatre Festival); SHANNON 10:40 (timeshare/Videofag); explicit (Rhubarb Festival); #legacy (Harbourfront Centre); The HV Project (Community). Selected Director: Box 4901(timeshare/Buddies), The Places We Are (Theatre Erindale), The Snow Queen (Canadian Children's Opera Company), Electric Messiah IV & V (Soundstreams), The Little Mermaid(St. Lawrence College), 9 to 5: The Musical (Randolph College), The Ballad of Stompin' Tom(Sudbury Theatre Centre), Box 4901 (SummerWorks, foldA Festival); The Canadian, Maggie and Pierre, Million Dollar Quartet, Daisy Amazed Me, Violet's the Pilot, Rose's Clothes(Thousand Islands Playhouse); Robert (co-directed with Briana Brown, Toronto Fringe); Songs for a New World (Claude Watson). Writer/Composer/Performer: The Way Back To Thursday (Theatre Passe Muraille/Touchstone Theatre – Dora nomination: Outstanding New Musical).
Rob has been a member of the Stratford Festival Playwrights' Retreat, a Resident Artist Educator at Young People's Theatre, and the RBC Intern Director for The Musical Stage Co. He is the past Artistic Producer of the Paprika Festival, the past Associate Artistic Producer at Theatre Passe Muraille, and the past Associate Artistic Director at the Thousand Islands Playhouse. More info at robkempson.com or on twitter at @rob_kempson.
Esther Jun originally trained as an actor in NYC and completed her directing degree at Drama Centre London in 2006. She currently is an Artistic Associate in Planning at The Stratford Festival and was the Assistant Artistic Director at Tarragon Theatre from 2016-18. Esther was part of the 2020 & 2016 Michael Langham Workshop for Classical Direction at The Stratford Festival, and was the 2015 Neil Munro Intern Director at the Shaw Festival. She is a founding member and Co-Artistic Director of Directors Lab North (directorslabnorth.com).
Lily Ling is a Toronto based Chinese-Canadian musician and the current Music Director and Conductor for the And Peggy tour of Hamilton. She is the first female to hold the title of Music Director and also the first musician of Asian descent to conduct the show. Previously, she served as the Associate Conductor for the Philip Tour.
Sheridan/CMTP credits: Oklahoma!, Atlantis, and Bethune.
International credits: Music Director and Conductor for 20th Anniversary Off-Broadway revival of john & jen; Associate Music Director and Vocal Coach for the Chinese premiere of The Lion King in Shanghai; Music Supervisor for the Chinese premiere of A Gentleman's Guide To Love And Murder; Associate Music Director and Accompanist for Lincoln Center workshop of Carousel.
Canadian credits: Next To Normal, Once On This Island (Musical Stage Company), The Fantasticks (Soulpepper), One Touch Of Venus (Shaw Festival), and the Canadian premieres of The Light In The Piazza, Parade, High Fidelity, Jerry Spring: The Opera, and Reefer Madness.
Lily is a graduate of Penn State University's MFA in Music Direction.
---
Living the Dream
Music & Lyrics: Anika Johnson & Barbara Johnston
Book: Nick Green
Director: Mitchell Cushman
Music Director: Suzy Wilde
What do you do when you're feeling alone? Every Tuesday, Clare throws a Zoom party. A contemporary look at relationships and loneliness in the Instagram era, Living the Dream is the story of a group of friends told entirely though commercial breaks during a viewing party of a reality TV dating show.
Anika Johnson is a Dora winning composer and performer. Selected writing credits include - with her sister Britta: Brantwood (Sheridan), Jacob Two Two Meets the Hooded Fang (YPT), Trap Door (with bookwriter Morris Panych; Sheridan) and Dr. Silver: A Celebration of Life (Outside the March/The Musical Stage Company); with Barbara Johnston: Blood Ties (Next Stage/featured on Orphan Black), One Small Step (Toronto Youth Theatre/Edge of the Sky Theatre), Fangirl (with bookwriter Nick Green; The Musical Stage Company), and Summerland (with Suzy Wilde; Toronto Fringe). Last year, she dramaturged the critically-acclaimed American premier of Life After at The Old Globe Theater in San Diego and upcoming projects include commissions from the Stratford Festival and Crow's Theatre. When the world isn't in lockdown, Anika performs internationally with Corpus DanceProjects and Wannabe: A Spice Girls Tribute.
Barbara Johnston is Toronto based performer and a Dora-nominated writer and director. Writing credits include – with Anika Johnson: Blood Ties (Next Stage Festival/SummerWorks/Edinburgh Fringe/featured on BBC America's Orphan Black), and Elly's Emotions(2015 Dora nominee, Outstanding TYA Production); Summerland (with Suzy Wilde; Toronto Fringe 2015, Edge of the Sky Theatre) The Fence (with Suzy Wilde; Toronto Fringe 2016, Edge of the Sky Theatre); Maddie's Karaoke Birthday Party (Toronto Fringe 2017, Charcoal Sketch) and with Anika Johnson has written three musical commissions for The Randolph Academy, and about to begin a fourth . Barbara is a founding member and has been seen on stages across North America and as far as the Middle East as Ginger Spice in Wannabe: The Spice Girls Tribute Band. She stars as 'Gwen Stefani' in Spiderwebs: The No Doubt Tribute Band and works as a singer with Sean Jones, gigging with multiple bands in Toronto. She has directed/choreographed for Outside the March and soon with The Musical Stage Company and musical directed for Expect Theatre's Beats and Intentions project. Barbara works regularly with the award winning Wexford Gleeks (Wexford School for the Arts) and runs a private music studio.
Nick Green is a Dora Mavor Moore and Elizabeth Sterling Haynes Award winning playwright, and the creator of the Social Distancing Festival (socialdistancingfestival.com). Credits include Happy Birthday Baby J (Shadow Theatre); Every Day She Rose (Nightwood Theatre, co-written with Andrea Scott); Fangirl (book; Musical Stage Company, Launch Pad); In Real Life (book; Canadian Music Theatre Projects); Dinner with the Duchess (Next Stage Festival, BroadwayWorld Toronto Award); Body Politic (Buddies in Bad Times/lemonTree Creations; Dora Award); Poof! The Musical (book and lyrics; Capitol Theatre, Sterling Award nomination); The Fabulous Buddha Boi (Guys UnDisguised, Sterling Award); Triple Platinum and 2 Queens and a Joker (co-writer; Guys in Disguise). Nick has been a part of the Stratford Festival's Foerster Bernstein New Play Development Program; Factory Theatre's Natural Resources unit; Nightwood Theatre's Write from the Hip; and Sheridan College's Canadian Music Theatre Project.
Mitchell Cushman is a director, playwright, and founding Artistic Director of Outside the March, one of Canada's leading immersive theatre companies. His work has been seen on stages as large as the Royal Alexander Theatre, in spaces as intimate as kindergarten classrooms and living rooms, and in locales as far flung as London, New York, Whitehorse, Edinburgh, Munich, Finland and Japan. Since the beginning of the pandemic, he has been working to explore new possibilities for live performance, co-creating projects like internationally-acclaimed telephonic adventure The Ministry of Mundane Mysteries (OtM), and the "Grand Act of Theatre" Something Bubbled, Something Blue (NAC/TIFT/OtM). In 2015 he and Julie Tepperman co-created the award-winning Brantwood as part of Sheridan College's CMTP – Canada's largest exploration of immersive musical theatre. In 2018, he co-created and director the intercontinental three-day immersive experience, The Curious Voyage. Recent Directing Credits include: The Tape Escape, The Flick, Dr. Silver, Jerusalem, Lessons in Temperament; The Ex-Boyfriend Yard Sale; TomorrowLoveTM (Outside the March); Treasure Island, Breath of Kings, Possible Worlds (Stratford); Hand to God; The Aliens (Coal Mine); Merrily We Roll Along (YES Theatre); Hand to God (RMTC). Mitchell has been the recipient of the Siminovitch protégé award, a Dora Award for Outstanding Direction, three Dora Awards for Outstanding Production, and his productions have received 14 Toronto Theatre Critics Awards. He holds an MFA degree in Directing from the University of Alberta.
Suzy Wilde is a Canadian songwriter, composer and arranger based in Toronto. She has written scores for the musicals (with Barbara Johnston) Be Kind, Rewind (Randolph Academy, Edge of the Sky Theatre), (with librettist Matt Bernard) Crack of Doom! (Bravo Academy, Yellow Door Theatre), ( with librettist Julie Tepperman) The Power of One ( Regent Park School of Music Choirs) and (with Anika Johnson and Barbara Johnston) Summerland (Edge of the Sky Theatre, Toronto Fringe). Wilde has composed and arranged for Sheridan College, Spectrum Composers Collective, Musicata Hamilton's Voices, The Regent Park School of Music Choir, Musical Stage's Make Me a Song and Noteworthy, The Guelph Youth Choir and The Wexford Gleeks. This year her new musical The Carrette Sisters (book by Rose Napoli) will premier as part of The Musical Stage's Launchpad series.
Wilde is a proud graduate of Wexford Musical Theatre and Humber College Music and is currently working towards a masters in composition at York University. She has played and recorded with many bands, and often tours the globe portraying "Posh Spice" in the popular band she co-founded, Wannabe: A Spice Girls Tribute.
For more information, please visit cmtp.sheridancollege.ca.