Impressive showing for Sheridan students in 24-hour Animation Contest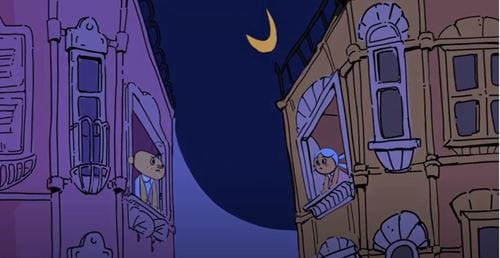 More than 1,000 students from ten countries participated in the 18th annual 24 Hours: Animation Contest for Students held virtually on Oct. 2 and 3. Students competed in groups of five to ideate, storyboard and animate a 30-second short film within 24 hours around the theme: 'How has the pandemic affected you?' A panel of esteemed industry judges named a Sheridan Honours Bachelor of Animation team the first-prize winner, and seven other Sheridan Animation teams placed in the top 13.
Top prize-winning film A Ray of Hope by the group Au Revoir Hands tells the story of two children whose playtime is interrupted by people in medical masks, symbolic of the physical distancing measures put in place during the pandemic. The children find a new, creative way to connect from their apartment windows, albeit at a distance. It is an impactful message for a 30-second film created in only 24 hours.
Mario Positano, Animation professor who served as advisor for Sheridan students on the challenge, was thrilled with their showing. "The contest is an impressive display of our students' bravery, passion for their craft, and dedication to their learning," he says.
Sheridan winners in the top 13 spots include:
1st place: Au Revoir Hands - Nikita Greer, Jeremy Tsujita, Anita Ciprino, Guillermo Botero and Amelia Tsai
2nd place: Rat Den - Alaine Baybayan, Liza Desyatkova, Hadas Rosen, Cici Rose Vogan-Lowe and Jill Pinkney.
4th place: The Five Da Vinkys - Sophia Santos, Zoe Xu, Angie He, Angel Levert and Jisoo Choi
6th place: Accounting 101: The Ultimate Guide to Accounting Basics – Jungwoo Cho, Luba Bobrowski, Sydney Roy, Teresa Futado and Rin Cogil
7th place: Scrumptious Studios – Steven Ross, Emily Oh, Brooke Morgan, Carson Olesch, Kaz Islam
12th place: FIYYAA
13th place: We Animate Pretty-ok
First-year Animation student Kaylen Cunningham reflected on her contest experience: "I'm usually a shy presenter, but I pitched a rough storyboard based on the clutter of ideas we were debating and it ended up being the visual basis for the final story. None of us took things too seriously. Everyone [in my group] was wonderfully respectful and open-minded, even when we were all delirious and making mistakes!"
Prizes for this year's contest totaled $170,000 in value. The three Sheridan teams in the top five have earned a coveted opportunity to meet with Disney representatives to receive feedback on their films. "Even if students don't place, it's an invaluable learning experience," says Positano. "This contest will prepare them for their next film or challenge as budding animators."
See all student films involved in the competition.
---
Pictured at top of page: A screenshot of the winning short film A Ray of Hope by Nikita Greer, Jeremy Tsujita, Anita Ciprino, Guillermo Botero and Amelia Tsai.