Sheridan alumni shine bright at TIFF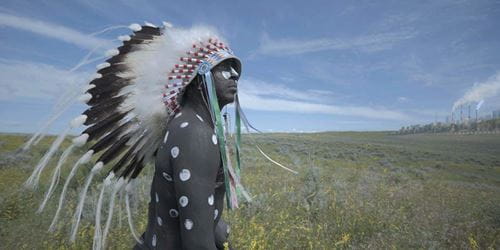 This year's Toronto International Film Festival will be unlike any version of TIFF the city has seen, but Sheridan grads continue to be a big part of the talent behind anticipated films at the festival.
Fifteen alumni worked on 11 films that will screen at the festival, which runs from Sept. 10 to 20.
Tickets are being sold for some in-person screenings at TIFF Bell Lightbox, while avid film connoisseurs can also catch screenings at drive-in locations and through an online streaming platform.
Alumnus Kent Monkman (Illustration '86) is featured in Inconvenient Indian – an adaptation of Thomas King's award-winning book that explores the cultural and colonization of Indigenous peoples in North America. The documentary is directed by notable Indigenous filmmaker Michelle Latimer and screens at 4:45 p.m. on Sept. 12.
Sheridan grads also played a role in Latimer's second project set to premiere at TIFF. Based on Eden Robinson's bestselling novel, Trickster is a series that follows an Indigenous teen struggling to support his dysfunctional family as myth, magic, and monsters slowly infiltrate his life. Jay Stanners (Classical Animation '89) was a compositor on the series, while Ryan Prouse (Advanced TV & Film '10) was First Assistance Camera. The series screens on Sept. 15.
Grads were part of the teams behind the features Violation, Falling and Akilla's Escape, as well as the short films Sing Me A Lullaby, Point and Line to Plane, The Archivists, Succor and Benjamin, Benny, Ben.
Three alumni played a part behind the scenes in the short Every Day's Like This, which was produced by Yonah Lewis and Calvin Thomas – both Media Arts grads of 2008. James Belyea (Media Arts '14) was a sound mixer on the project, which premiers on Sept. 14.
"We're incredibly proud to celebrate the efforts of our alumni and see their work celebrated at renowned festivals such as TIFF," said Sean McNabney, interim Dean of Sheridan's Faculty of Animation, Arts and Design. "They are an inspiration to our current students, and a testament to the impact Sheridan grads have in Canada's film industry."
Graduates of Sheridan's programs in film and television, animation and theatre have had a strong presence at TIFF, showcasing the college's excellence in filmmaking. In 2019, more than 30 alumni worked on films that screened at TIFF, including the opening night gala documentary – Once Were Brothers: Robbie Robertson and The Band.
---
Pictured top right: A still from the film Inconvenient Indian featuring Sheridan alumnus Kent Monkman.