CMTP launches 2020 season with $1 million donation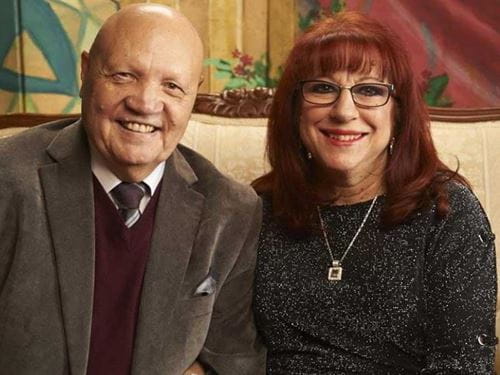 The Canadian Music Theatre Project at Sheridan College is proud to announce its 2020 lineup of new musicals. Almost A Full Moon, burden of proof, and Living the Dream will be workshopped over the next five weeks by Sheridan's Honours Bachelor of Music Theatre Performance Class of 2021.
This year, CMTP is also delighted to announce the creation of the Keith & Sharon Segal Fund for International Musical Development. Thanks to a generous gift of $1 million from Keith and Sharon Segal, founders of guard.me International Insurance, the fund will support the development of international and internationally themed musicals at the CMTP, as well as scholarships for international students studying at Sheridan. burden of proof is the first musical to be supported by the fund.

"Keith and Sharon Segal are outstanding philanthropists who believe in the power of education to inspire change," said Dr. Janet Morrison, President and Vice Chancellor at Sheridan. "We are grateful for their support, which will allow us to share stories and voices from around the world that might otherwise not be heard."
CMTP's partnership with Keith and Sharon will enable Sheridan to reach across international borders in order to build a rich and more tolerant world. As long-time fans of Theatre Sheridan and CMTP, Keith says he is excited to support telling stories that are underrepresented in the canon of musical theatre. The partnership also allows the Keith and Sharon to continue to support international students. Over the past decade, Keith and Sharon have invested in projects that support Sheridan's international students, including student financial support and dedicated tutoring centres.

"Being involved in international education has shown me that we can learn so much from each other. Musical theatre is a unique way to explore and share those lessons," says Keith. "I'm thrilled to support the CMTP's work to share those stories with audiences, while still remaining true to our commitment to support international students."
The three 2020 projects are:
Almost a Full Moon
Music & Lyrics: Hawksley Workman
Book: Charlotte Corbeil-Coleman
Director: Daryl Cloran
Music Director: Ryan deSouza
Commissioned by the Citadel Theatre, Almost a Full Moon is inspired by the beloved Christmas album by Canadian singer/songwriter Hawksley Workman. The play incorporates Workman's songs in three storylines that chase in and out of different ages of Christmas, love, and family, winding together for a timeless story.
Burden of Proof
Music: Scott Christian & La-Nai Gabriel
Book & Lyrics: Rob Kempson
Director: Esther Jun
Music Director: Lily Ling
Funded by the Keith and Sharon Segal Fund for International Musical Development

burden of proof explores the challenges met by LGBTQ+ refugee claimants in Canada. Queer refugees who come to Canada after fleeing oppressive, homophobic homelands have often spent their lives trying to hide their sexuality or gender identity for fear of persecution. However, when they arrive here, they must prove their queer identity to claim status as a persecuted minority. It's an impossible question: how do you prove your identity without ever practicing it? How can you communicate who you are without ever having a chance to know for yourself? This question burdens not only the queer community, but all of us.
Living the Dream
Music & Lyrics: Anika Johnson & Barbara Johnston
Book: Nick Green
Director: Mitchell Cushman
Music Director: Suzy Wilde
What do you do when you're feeling alone? Every Tuesday, Clare throws a party. Set in a near-future post-quarantine world, Living the Dream is a contemporary look at relationships and loneliness told entirely during the commercial breaks of a reality TV dating show viewing party.
Since the CMTP was launched in 2011, 26 new musicals have been developed, including the worldwide smash hit Come From Away. This year, the workshops will be held virtually.
"The CMTP has become the world's leading musical theatre incubator." said Michael Rubinoff, Producing Artistic Director. "Even virtually, we will be fostering a one-of-a-kind creative environment that leads to robust collaborations between writing teams and our students."
Audiences will be able to enjoy a sneak peak of the musicals in development at the 2020 Festival of New Musicals being held virtually in mid-October. More information about the CMTP can be found at cmtp.sheridancollege.ca.
Founded in 1998, guard.me International Insurance is one of the world's largest insurance providers in international education, receiving numerous national and international awards for its student-focused approach and customized services. As part of its long-term investment in the field of international education, guard.me also regularly gives back to the community it serves in the form of resources, scholarships and funding.
Please direct all media inquiries to:
Nicole Woodall
Manager, Public Relations and Social Media
nicole.woodall@sheridancollege.ca
(647)226-6604
---
Pictured top right:

Keith and Sharon Segal