Sheridan professor wins a Kidscreen Award for film #Roxy
At the Kidscreen Awards in Miami, Florida on February 11, accolades were presented in celebration of the past year's best work in children's television and digital media. Michael Kennedy, a seasoned film and television director, and professor and coordinator of Sheridan's Honours Bachelor of Film and Television degree, won in the Tweens/Teens category, Best One-off, Special or TVO Movie for his latest feature film #Roxy.
#Roxy is a filmic interpretation of Edmond Rostand's 1897 verse play Cyrano de Bergerac, which was adapted by Steve Martin for his 1987 film Roxanne. The even more modern, teen-focused Canadian retelling that is #Roxy, is the 16th feature-length film Kennedy has directed. His other works span drama, comedy and family-focused genres filmed across Canada, the U.S., Mexico, Belize, Germany, Hungary and India for both big and small screens including Little Mosque on the Prairie, Kids in the Hall, Good Witch, Robin of Locksley, Odd Squad and Made in Canada.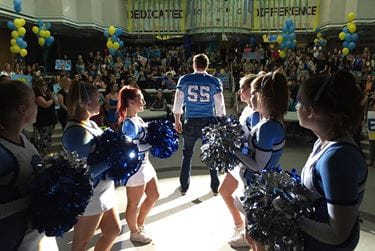 The Kidscreen Award is one that Kennedy regards as a tremendous honour. "I take great pride in knowing people watched and appreciated this little piece of joy and I'm thrilled to see my team's work applauded," he says. "The experience of filming #Roxy stands out in my career as I finally felt truly confident each day in my role as director - I must be a slow learner. Having an unusually talented and fun cast helped."
Kennedy also has writing, cinematography and acting credits to his name. The multi-talented filmmaker is an asset to Sheridan's steadily growing Bachelor of Film and Television program, says Ronni Rosenberg, Dean of Sheridan's Faculty of Animation, Arts and Design. "Professors rooted in industry are an invaluable asset to our programs at Sheridan. Our students benefit from real-world instruction by practitioners who bring relevant, current experiences to their classrooms."
This recognition will be added to Kennedy's two Directors Guild of Canada Awards and three Canadian Comedy Awards. Other winners from the 2020 Kidscreen Awards include well-known titles like Sesame Street, Bob's Burgers, A Series of Unfortunate Events and Kung-Fu Panda: The Paws of Destiny.
Watch a trailer for #Roxy, which stars Sarah Fisher of Degrassi, Jake Short from Heartland and Booboo Stewart from the Twilight films.
Read an article that includes a full list of 2020 Kidscreen Award winners.
Learn about Sheridan's Honours Bachelor of Film and Television program.
---
Pictured top right: Michael Kennedy, directing the pilot for the TV series North South.
Pictured above left: A scene from #Roxy.