Blown Away Stars Take to the Stage and Studio at Sheridan College
Last Saturday an enthusiastic audience filled the theatre at Sheridan's Oakville campus to take in a lively panel discussion featuring Deborah Czeresko and Alexander Rosenberg, respective winner and 3rd place finalist of the Netflix reality series Blown Away. Moderated by Melanie Egan, Director of Craft and Design at Harbourfront Centre, the panel also featured Donna Luke, Vice President of Production at MarbleMedia Inc., which produced the show; Tim Luke, who oversaw set design in the Hamilton location where the show was filmed; Koen Vanderstukken, Studio Head of Sheridan's Glass Studio who served as expert consultant on the series; and Emma McDonald and Alyssa Getz, Sheridan alumni who worked as assistants to the glass artists on the show.
Blown Away succeeded in providing viewers with a behind the scenes reveal of the complex technical and artistic skills required to excel in the ancient art of glassblowing. Approached early on to serve as series consultant, Vanderstukken expressed that "My biggest concern was what kind of show it was going to be – was it going to be about bickering glass blowers? From the start, they were able to convince me that artistic integrity was pivotal to the show."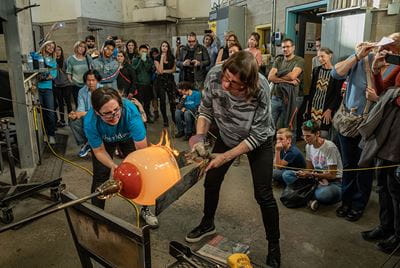 Czeresko and Rosenberg shed a light on the precarious lifestyle experienced by glass artists. Rosenberg, who left a tenure track teaching position to pursue his love of glass, replied to the audition call because he saw it "as an opportunity to be paid for something that I'm good at."For Czeresko, a New York City-based artist, the motivation, beyond Netflix fame, was to "use it as a global platform to promote glass art."
Blown Away was released on Netflix worldwide in July, and was met with favourable reviews, including in The New Yorker, Time Magazine and The Washington Post. "We were amazed at the reach it had," said Donna Luke. "Even Netflix were surprised – they didn't do any promotion or marketing as they would have done if there was a big name attached. But it was successful, because it was good."
Asked about the impact of the show on her life, Czeresko said it had been "phenomenal". "Living in New York City, I see a lot of people and many recognize me and want to connect with me in a really heartfelt way that transcends age, race and gender. It's been life changing."
Rosenberg shed light on the magic of working with glass. "I like that it's this synthesis of the intellectual and physical. It's not narrative, memorization of facts or mathematics. It's this literal recording of movement in materials freezing in time. Glass has been the intermediary for every kind of scientific and technical discovery in history." Added Czeresko, "glass is an androgynous material – it's like sculpting a liquid."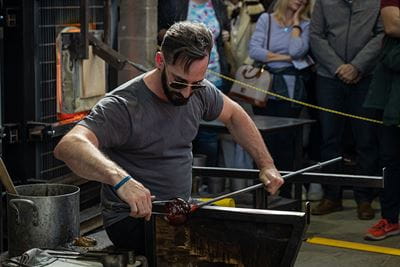 For Sheridan students who worked on the show as assistants, the experience was "chaotic, stressful and fun", according to McDonald. "It was challenging to learn the working style of the artists while also trying to accommodate the film crew working to capture the scene," added Getz. The grace under pressure of students and alumni assisting on the show is illuminated by Rosenberg's characterization of the set as being "like an ER".
The panel discussion was followed by individual glassblowing demos by both Blown Away artists, as attendees crowded into the Glass Studio to capture a view of the artists at work. David Thai, a well-known glass artist and Sheridan alumnus, gathered glass for Deborah Czeresko as she recreated her award-winning creation from the final episode of Blown Away. Current students in the program also had the amazing opportunity to assist and learn from Rosenberg and Czeresko.
An announcement regarding season two of Blown Away is eagerly awaited. In the meantime, watch the Blown Away panel discussion at Sheridan.
---
Pictured top right: Alexander Rosenberg and Deborah Czeresko in Sheridan's Glass Studio. Photos by Owen Colborne.