Sheridan Joins Global Call for Action on Climate Change
Students, faculty, and staff at all three of Sheridan's campuses gathered in solidarity today to support the calls for action on climate change taking place around the world.
Peaceful rallies were held at the Trafalgar Campus in Oakville, the Davis Campus in Brampton, and the Hazel McCallion campus in Mississauga. The events were organized by Sheridan's Office for Sustainability, with the support of the Sheridan Student Union and countless volunteers.
The day began with a mini-rally at the Trafalgar Campus featuring the children of the Oakville Sheridan Child Care Centre and their caregivers, holding colourful signs.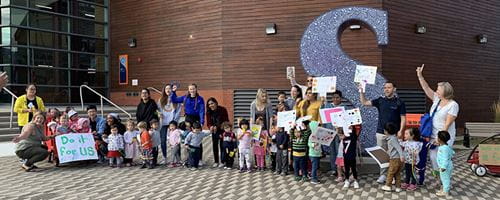 Over the course of the afternoon, hundreds of students and employees gathered at the Trafalgar, Davis and Hazel McCallion Campuses to hear impassioned speeches and performances from fellow students, professors, and Sheridan's President, Dr. Janet Morrison.
Student advocates, including international students from Finland, Turkey, and Brazil, spoke on the urgency of taking action through everyday choices. They reminded attendees of the importance of reducing meat consumption, commuting responsibly, and holding elected officials accountable.
Dr. Janet Morrison re-affirmed Sheridan's commitment to advocating for innovative, sustainable practices on campus, and to model these responsible choices wherever we can. She also cited her personal pledge to nurture a culture of student leadership: "I promise to foster the engagement of young, progressive voices; to coach and mentor about citizenship and the responsibilities inherent in living within a democracy" she said. "I am steadfast in my view that this is what will propel change and – at this critical moment in time – maybe save the planet."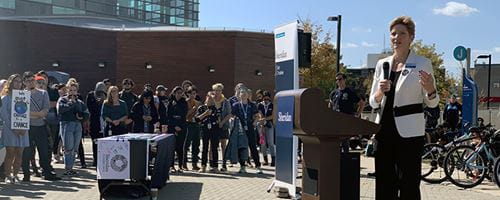 Sheridan's sustainability leadership includes pioneering efforts in establishing efficient district energy networks, working with municipal government partners on community energy plans, and the bike share program at the Hazel McCallion Campus aimed at reducing our community's transportation footprint.
The college is also steadily working towards its ambitious Mission Zero goals to cut our energy and carbon emissions in half, virtually eliminate the waste we send to landfill, and restore biodiversity on our campuses.
"Sheridan understands that in addition to managing our own impacts on the planet, we have a pivotal role to play in actively bettering the world through education, innovation and principled leadership," noted Herb Sinnock, Sheridan's Manager, Sustainable Energy Systems, in a written statement sent from Washington D.C., where is sharing Sheridan's message and example. "Through our work to build better systems, infrastructure and practices on campus and in our communities, we are championing the message that transformative change is both necessary and possible".
---
Pictured top right: Student speakers at the Climate Rally at Sheridan's Trafalgar Campus. Pictured top left: Sheridan Daycare Centre children and staff. Pictured directly above: Sheridan President and Vice Chancellor Dr. Janet Morrison addressing the Trafalgar Campus Climate Rally.