Sheridan and Chartwells Canada Spearhead Postsecondary Food Service Revolution with Sally the Robot
Sheridan College and Chartwells, Canada's largest educational foodservice provider, have partnered with food robotics company Chowbotics to serve up a new and innovative dining experience on Sheridan's Trafalgar Campus in Oakville, Ontario. With the launch of Sally the Robot, students and staff at the Trafalgar Campus became the first at a post-secondary institution in Canada to benefit from Sally's fresh, customizable salad bowls that offer a variety of bases, vegetables, proteins, and dressings - at the touch of a button - making healthy meal choices more convenient than ever before.
Sally has served over 900 salad bowls within the first two weeks of its official launch.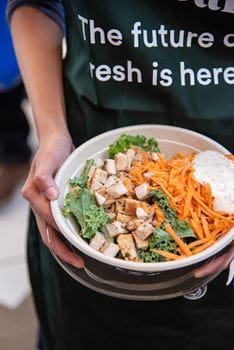 "Welcoming Sally the Robot to Sheridan is a big milestone in our mission to provide our community with more quality food options throughout the day," says Tracey Ens, Associate Vice President, Business Services. "Providing easy access to fresh, healthy meals is a key part of nurturing a healthy campus culture – and we're thrilled to bring this creative, first-of-its-kind solution to our community."
Sally is located in the Food Court on the Trafalgar Campus in Oakville, and is accessible 24 hours a day, seven days a week throughout the year. Sally will especially benefit residence students and those studying late, as the robot will offer fresh, healthy meals to students after other campus food facilities have closed.
"Putting the needs of students first is the key component of Chartwells' focus on innovation. The launch of Sally, our new, groundbreaking, unique salad experience, enables us to offer students a greater variety of fresh, healthy choices 24 hours a day," said Kevin Booth, Regional Vice President, Chartwells.
Sally offers chef-crafted, pre-programmed salad bowls from any combination of up to 22 ingredients. Refrigerated at a crisp 3.3 degrees Celsius to ensure freshness and food safety, Sally is refilled with fresh ingredients multiple times per day, and the Chartwells team receives automated notifications when an ingredient is low or if the refrigeration temperature falls below 3.3 degrees Celsius. These control measures ensure that each and every interaction results in a great tasting salad made with a full range of fresh ingredients.
"We're thrilled to help Sheridan provide healthy, forward-thinking foodservice options for their students and staff," says Dr. Deepak Sekar, founder and CEO of Chowbotics. "Sally will bring nourishment day and night to those studying, visiting or working at Sheridan."
Chowbotics was recently selected as one of The World's Most Innovative Companies in Robotics by Fast Company, joining a prestigious list of companies "making the most profound impact on both industry and culture."
---
Pictured at top, left to right at the August 29 launch event at Sheridan's Trafalgar Campus: Shahid Shaikh, Food Service Director; Kevin Booth, Regional Vice-Present, Compass Group; Geetha Ranasamy, Regional Director of Operations, Compass Group; Tracey Ens, Associate Vice President of Business Services, Sheridan; Fadi Zurieket, General Manager of Sheridan Food Services, Compass Group; Tyler Hallam, Brand Manager, Nutrition & Wellness at Compass Group. Photos by Julia Kuziw.