Historic sculpture unveiled in Vatican City has ties to Sheridan
For the first time in 400 years, a sculpture has been installed on the grounds of St. Peter's Square in Vatican City and was unveiled at a ceremony on September 29 – World Day for Migrants and Refugees. The bronzed, life-size sculpture by Canadian artist Timothy P. Schmalz is symbolic of the refugee crisis and was modeled for by Oakville resident and Sheridan College life drawing model Edward Czuchnicki.
The sculpture features a boat carrying 140 people of varying ages and ethnicities with angel wings anchored in the vessel's centre. It's titled Angels Unawares, drawing inspiration from the biblical verse Hebrews 13:2. At Schmalz's St. Jacob's, Ontario studio, Czuchnicki posed for more than half of the people depicted on the boat, requiring days of physically demanding work for the 66-year old.
Czuchnicki believes the piece will resonate with anyone who sees it. "The refugee crisis is an issue that demands our attention," he says. "We're all on that boat." Schmalz describes the piece as a tapestry of people and emotions. "To see more than 100 people of all backgrounds represented together in this way is a visual history lesson," he says. "There's a fear and wariness of strangers in today's society, but this work forces us to re-examine that idea."
Pope Francis, who previously blessed a maquette – or scale model of the sculpture – before requesting the much grander version to be made, was at the unveiling.
As a tribute to two decades of creative collaboration and friendship, Schmalz sculpted one of the boat passengers in the image of Czuchnicki's late mother Janina. "It looks just like her," says Czuchnicki, who had shown Schmalz black and white photos of her from her youth, when she came to Canada as a refugee during the Second World War. "She would have thought this to be a tremendous honour."
Czuchnicki and Schmalz first met at an open life drawing class in Waterloo, Ontario. At the time, Czuchnicki was a technical illustrator for AT&T and stood in as a favour for a friend when the model cancelled last minute. He'd never modeled before then, let alone posed nude. Shmalz was at that class and struck by Czuchnicki's natural ability. "An excellent model has an awareness that's intuitive," says Schmalz. "Ed has that. He can animate his body with the subtle movement of a wrist or swing of a shoulder."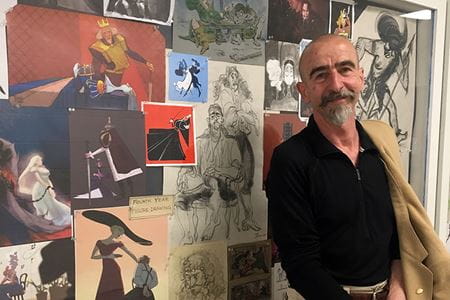 Since their initial meeting, Czuchnicki has modeled for many of the sculptures in Schmalz's collection of work including pieces that are installed in prominent locations throughout Canada, the U.S. and Europe. Czuchnicki also models regularly with artist Werner Zimmerman and posed for a silver Canadian Mint coin of Samuel de Champlain created by Laurie McGaw.
At Sheridan, Czuchnicki models for various art classes with life and character drawing requirements. Much of the stand-out work that's featured in the glass displays in Sheridan's halls bears his likeness. Students are evidently impacted by his work. So much so that former Honours Bachelor of Animation student Taha Neyestani created a short film called Ed for his final-year thesis. The story it tells is inspired by the magic that Czuchnicki creates in the studio. In 2016, it won a prestigious Annie Award – one of the animation industry's top honours. Czuchnicki considers this homage a career highlight.
"Ed has been an important part of the Faculty of Animation, Arts and Design team here at Sheridan for more than 15 years," says Dean Ronni Rosenberg. "He's a consummate professional who comes well-prepared to each of his sessions and is widely admired by our students."
Czuchnicki likens each modeling session to telling a story with his body, absent of words, movement and oftentimes, clothing. "When it comes to poses, I think big," he says. He often finds ways to bend and twist his body, extending and contorting to create new perspectives for artists. "Legs might be coming at you or I'll be backwards and turning. I stay up late at night thinking of how to challenge the students."
At the end of September, Czuchnicki retired from his modeling work at Sheridan, looking to spend time behind the canvas and hone his own artistic skills. He plans to continue working with Schmalz and traveling to Rome to see the history-making Angels Unawares and other works for which he's modeled throughout a dynamic and creative career.
---
Pictured top right: Angels Unawares sculpture unveiled in Vatican City on Sept. 29. Pictured above left: Edward Czuchnicki in front of student's work at Sheridan's Trafalgar Campus.