Sheridan student film makes semifinals of the Student Academy Awards
A film created by recent Sheridan Honours Bachelor of Film and Television graduate Sarah Gonyea made it to the semifinal round of The Academy of Motion Picture Arts and Sciences' 46th annual Student Academy Awards.
Gonyea's fourth-year Sheridan thesis film, Cosmo, was nominated by Sheridan faculty in the international documentary category. It tells the story of a young woman named Amanda Cosmo who was born into adversity and struggles throughout her adolescence to find a sense of belonging. Facing addiction battles and eventually hitting rock bottom, Cosmo begins to establish a positive path forward in life, which includes pursuing work as an apprentice in the skilled trades.
Cosmo is one of 81 films to advance for this year's awards from more than 1,600 submitted from around the world. "We're thrilled that Sarah's work is being considered for this international honour," says Ronni Rosenberg, Dean of Sheridan's Faculty of Animation, Arts and Design. "Sarah is a standout storyteller with an ability to engage audiences through her touching human stories. Her talents will carry her far in the industry."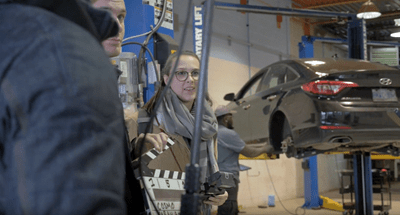 Gonyea worked alongside a team of her Sheridan peers to bring Cosmo to the screen. "Making it to this stage in the Student Academy Awards is something I'm incredibly proud of," says Gonyea. "It's a step towards pursuing my goal to work as a director in the film industry, and I'm so grateful to have had such an incredible team around me that helped bring my vision to life."
Past Student Academy Award winners have included acclaimed directors Spike Lee and Pete Docter. The Awards are designed to support and encourage excellence in filmmaking at the collegiate level.
This honour adds to Gonyea's other filmmaking achievements in her burgeoning career, which includes winning first prize and the people's choice award in TVO's 2018 Short Doc Contest.
Learn about Sheridan's Honours Bachelor of Film and Television program.
---
Pictured top right: Sheridan alumna and Student Academy Award semifinalist Sarah Gonyea. Pictured above left: Sarah Gonyea behind the scenes directing her documentary Cosmo.