Sheridan Illustration professor wins children's picture book award
Long-time Honours Bachelor of Illustration professor and program coordinator, Joe Morse, alongside author Wab Kinew, has been recognized with the Ruth & Sylvia Schwartz Children's Picture Book Award. Their book, Go Show the World: A Celebration of Indigenous Heroes, recognizes the significant contributions of Indigenous people throughout history.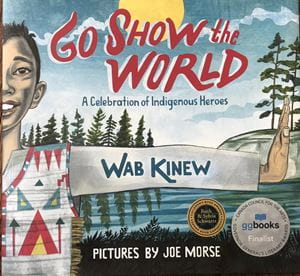 The award was established more than 40 years ago by Sylvia Schwartz to recognize artistic excellence in Canadian children's literature and honour the memory of her sister, prominent Toronto bookseller, Ruth Schwartz. It was first bestowed to renowned author Mordecai Richler in 1976.
Nominees are selected by a three-person committee comprised of a bookseller, a librarian and a children's book reviewer. A jury made up of Grade 3 and 4 students from Eastview Public School in Scarborough, Ontario was charged with reviewing the nominees and chose Go Show the World as the winner.
Morse is an acclaimed illustrator with more than 200 international awards to his name. His art has been featured on coins, apparel and in publications like Rolling Stone magazine and The New York Times. "I'm humbled to be recognized by the very people who I'd hope would be inspired by this book," he says. "Of all the accolades I've been fortunate enough to receive in my career, nothing beats the honour of seeing your picture book in the hands of a child."
"We're delighted that Joe has received this award for his work that so beautifully depicts the stories of Indigenous heroes," says Ronni Rosenberg, Dean of Sheridan's Faculty of Animation, Art and Design. "Our students are fortunate to have faculty like Joe who bring their rich, professional experiences with them into the classroom."
An award ceremony was held at Eastview Public School on June 14, 2019. Morse met with the young jury members and spoke to the entire school about how an illustrator works effectively with an author.
---
Pictured top right: Joe Morse showing his illustrations to students at Easview Public School in Scarborough.