Students shine at Game Developers Conference in San Francisco
The annual Game Developers Conference (GDC) in San Francisco, California is the world's largest professional game industry event. It brings together 28,000 designers, artists and producers to exchange ideas that help shape the future of the industry. It's highly valued by Sheridan Honours Bachelor of Game Design students as an opportunity to network, reflect on their knowledge and get inspired to pursue a professional career as game designers. A contingent of students were among the attendees at this year's GDC from March 19 to 22, showcasing their work and representing Sheridan on an international stage.
At GDC's premier student event – the Intel University Game Showcase (IUGS) – Sheridan was one of only two post secondary institutions from outside of the United States represented. Participating institutions included the likes of New York University, Texas A&M and Carnegie Mellon University. A fourth-year Sheridan team called bigbee games that includes Vincent Gutauskas, Paul Williams, Keita Lorente and Annie Wang was one of 14 selected to present their work on stage to an audience and panel of judges.
Their game, Mission Control, offers a multi-player experience that aims to create positive and memorable experiences between the police and youth in the community. It's the students' fourth-year capstone project and is sponsored by and developed in partnership with the York Regional Police. "Being able to get our product into the hands of an international audience was really enlightening," says Gutauskas. Fourth-year Sheridan professor Jose Rueda adds: "The impact of their game goes beyond the skills they've developed in gameplay and design. They are solving a challenge relevant to their community that will make a difference in people's lives."
Elsewhere at GDC, Sheridan students who created Plünge were part of the Alt.Ctrl.GDC Showcase, which is regarded as one of the more popular exhibits at the conference. The games featured there are characterized as inventive and innovative as they use unique, one-of-a-kind controllers. Plünge's one-button control mimics the motion and function of a household toilet plunger. It garnered a lot of attention from attendees. The team behind it included first, second and third-year Game Design students Darryl Feniquito, Gavin Nelson, Jackson Lanaus, Sebastian Scaini, Vuk Solujic, Xin Zhang and Del Nordlund. They created Plünge for Sheridan's Sprint Week – a biannual, week-long design challenge that has students working in multidisciplinary teams to create new and inventive games.
At the GDC Narrative Summit Poster Session, Sheridan students Jessica Zhang and Colton David were awarded platinum honours and Shabnam Goodarzi gold for their analysis of the narrative elements of a game title of their choice. These posters were derived from a class narrative assignment. Students submitted their work to the GDC Writing Board for review and the most promising were invited to be adapted into a visual synopsis and displayed at the conference. The work of Sheridan students has been featured in this GDC initiative every year since 2015.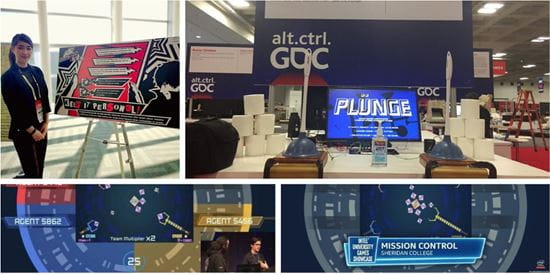 "All of the work that our students had on display at GDC came out of academic curriculum," says Nicolas Hesler, Professor and Coordinator of the Honours Bachelor of Game Design program. "What's expected of students at Sheridan is directly relevant to industry and can result in these sorts of international opportunities."
A Sheridan Game Design graduate, Zack Wolfe, was also at GDC as a panellist. He's a co-founder and designer at OddBird Studio, which was formed by a group of Sheridan students who created the award-winning game Arrow Heads. Wolfe spoke at a session titled Animation Bootcamp: Animation Tricks of the Trade, sharing tips and tricks on developing ideas, workflows and techniques to game animators.
This spring 2019 will mark only the third cohort of graduates from the Honours Bachelor of Game Design program. Its students and graduates are already making their mark in the industry.
---
Pictured top right: Sheridan student Vincent Gutauskas showcasing bigbee games' Mission Control. Pictured directly above (top left to right, clockwise): Jessica Zhang presenting at the Narrative Summit Poster Session, Plünge's set-up at the Alt.Ctrl.GDC Showcase, bigbee games' presentation on screen at the Intel University Game Showcase (IUGS), Vincent Gutauskas and Paul Williams presenting to the judging panel and audience at the IUGS.