Marlon James Draws Enthusiastic Crowd for Sheridan Reads
On March 4, Sheridan Reads welcomed Marlon James for a conversation about his new, critically acclaimed novel, Black Leopard, Red Wolf. Drawing from African history and mythology and his own rich imagination, James' novel is unlike anything that's come before it: a saga of breathtaking adventure that's also an ambitious, involving read.
Before a packed house in The Marquee at Sheridan's Oakville campus, James read an excerpt from the book, then engaged in discussion with creative writing professor Thea Lim, herself a Giller Prize-nominated author for her work, An Ocean of Minutes.
Their conversation touched on a wide range of themes, including the power of story telling, how violence is depicted in fiction and in popular culture, masculinity and emotional growth, and the musicality of prose.
The Power of Story
"People tell stories in order to live, to live on, to persevere, and to bring glory to people who might not otherwise receive it," said James, in response to a question about what stories can do. "Stories are detective work – they reveal something about us. They can also heal, or at least make a space for healing."
Black Leopard, Red Wolf is a complex fantasy novel that demands the reader's attention. "I think people forget what an 'active' activity reading is," said James. "It's more than just opening a book and expecting to be entertained – there's a lot of work the reader has to do."
The Ethics of Depicting Violence in Fiction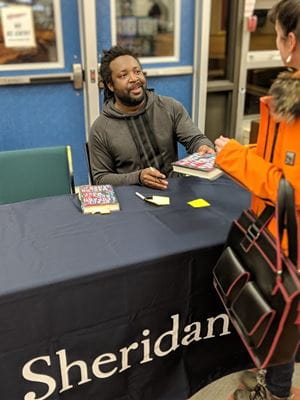 James won the Man Booker prize for his earlier novel, A Brief History of Seven Killings. His new work has been described as an African Game of Thrones – an epic fantasy that also depicts a litany of violent acts. Lim noted that he has been described as a "virtuoso of violence", a characterization he rejected. "I always find it interesting when people say my books are violence-drenched, because they're really not. I don't separate violence from suffering, from the aftermath of it." In contrast, he referenced the action films of the 1980s and 1990s, which presented a barrage of violent acts that only numbed the viewer. "I mean Die Hard – that's considered a Christmas movie!" He elaborated: "These movies are selling violence without suffering."
In writing about violence, he takes a journalistic approach. "I have to turn myself into a reporter – you have to go in and get a story, but you also have to be respectful, explicit and clear in writing it." He sees shirking from writing the truth about violence as an insult to its victims. Referring to one of his earlier novels, The Book of Night Women, he dryly noted "Some people say they can't read my novel about slavery – I think reading a book about slavery is slightly better than being a slave."
Emotional Growth Through Empathy
Lim noted that "the flipside of violence is intimacy and tenderness, of which there's also a lot of in Black Leopard, Red Wolf". She asked James about the bonds between men that are explored in the book. "The first thing I wanted to do was separate masculinity from sexuality, and also explore tenderness," said James. In the course of the novel, he added, "Tracker (the novel's protagonist) goes from being a brat, to learning some really good lessons along the way" - including the power of empathy.
The event concluded with a Q&A session, during which James spoke about his practice of listening to music while writing. "I think prose should have a metre and a beat. To me, silence feels like deafness when I'm writing." Miles Davis and Herbie Hancock are amongst the artists who supplied the soundtrack for writing Black Leopard, Red Wolf.
About Sheridan Reads:
Sheridan Reads is an extended reading event that brings together students, staff and faculty with community groups, public libraries and service organizations in Mississauga, Oakville and Brampton to discuss and celebrate the work of writers from home and abroad. Past featured authors have included Lawrence Hill, Thomas King and Tracey Lindberg.
---
Pictured above: Author Marlon James signing book at Sheridan Reads 2019.
Pictured top right: Professor Thea Lim and author Marlon James on stage at Sheridan's Trafalgar Campus in Oakville.