Sheridan holds its first ever Skilled Trades Competition
On March 28, 2018, Sheridan's School of Skilled Trades and Apprenticeships held its first ever Skilled Trades Competition at the new Skilled Trades Centre at the Davis Campus in Brampton. Students from five different trades (Industrial Mechanic Millwright, Precision Machining, Plumbing, Electrical and Welding) showcased their skills as they competed against their peers. Eligible winners will have the chance to participate at the upcoming Skills Ontario competition in May.
Sheridan's professors historically selected the top students to compete at Skills Ontario; however, Sheridan's new Skilled Trades Centre provided an opportunity for a new and exciting selection process, says Dave Wackerlin, Interim Vice Dean of Sheridan's Faculty of Science and Technology. "We knew that we wanted to do something exciting, something that would be an event, something that would include our whole student population and that would connect us to our community," says Wackerlin. "And the idea grew. From the idea of how might we identify students for Skills Ontario through competition rather than through grades and selection process, it grew into this event with a couple of hundred students and all of our shops, and everyone coming out to watch."
Depending on the trade, students were asked to complete one, two, or a series of projects during the six-hour competition. "The competition was fun, and challenging. Winning Gold was really exciting, and I'm happy that I get to move on to Skills Ontario now," says Sheridan student Jake Doan, who won Gold in the Industrial Mechanic Millwright category. "It was a good idea to hold the competition at our new building. Before, students were hand-picked; now they're competing to see who's the best of the best to represent Sheridan at Skills Ontario."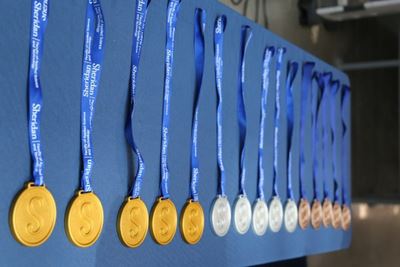 The new Skilled Trades Centre is a 130,000-square-foot facility at the Davis Campus, designed and built to deliver exceptional learning experiences in apprenticeship, pre-apprenticeship and postsecondary skilled trades. Sheridan's skilled trades students were formerly located at the Iroquois Shore Road Campus in Oakville, a location separate from the three main campuses. "It's so exciting to be a part of a larger campus. It's great to have our skilled trades students interacting with the other students on this 10,000-student campus," says Wackerlin. "We're really connecting skilled trades with our general population."
The building's design also connects the general population and Sheridan's skilled trades programs, as spectators on the second floor can look down at the millwright shop, the construction shop, and electrical and machining shops.
"The student experience is so much better here," says Dan Hammond, Coordinator of the Engineering Technician and Electrical Techniques programs. "Students are engaged with the rest of the college, they're not so isolated, and it's been a great experience for the students. It's a beautiful shop, state-of-the-art, and the college has really shown its commitment to the skilled trades."
Winners were presented with Gold, Silver and Bronze medals, made by Sheridan's skilled trades faculty, and many industry partners contributed gifts for competition winners. Winners also stood on a podium specially made at the Skilled Trades Centre for this competition.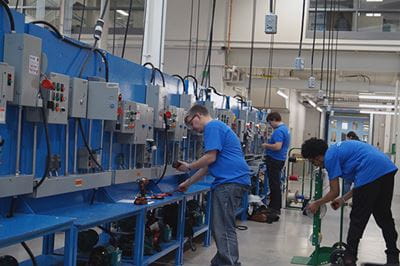 List of Winners
Industrial Mechanic Millwright:
Gold – Jake Doan
Silver – Scott Barink
Bronze – Scott Powless
Precision Machining:
Gold – Connor Douglas
Silver – Scott Rasmusen
Bronze – Andrew Lescusky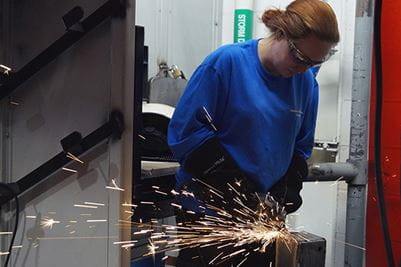 Plumbing:
Gold – Bryce Melvin
Silver – Aidan Kennedy
Bronze – Damandeep Singh Sidhu
Electrical:
Gold – Simrandeep Singh
Silver – Vik Abbi
Bronze – Sarajit Blarg
Welding:
Gold: Dylan Ramsey
Silver – Mark Frasson
Bronze – Kaitlin Demerchant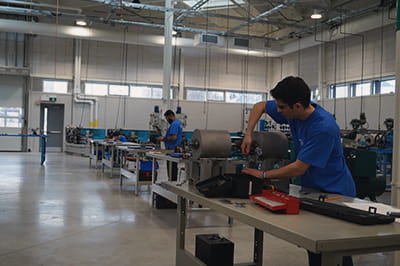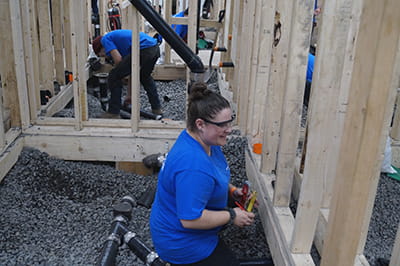 Pictured top right: Dave Wackerlin, Interim Vice Dean of Sheridan's Faculty of Science and Technology.
Pictured second from top right: Skilled Trades Competition medals, made by Sheridan faculty.
Skilled Trades Competitions, pictured in order from middle right to end: Electrical, Welding, Industrial Mechanic Millwright, Precision Machining and Plumbing.