Sheridan and Maclean's celebrate the future of innovation
Sheridan students, staff, and members of the community gathered at the Hazel McCallion Campus earlier this week for a special event co-presented by Maclean's exploring the future of innovation. The afternoon showcased Sheridan's ground-breaking applied research in the arts, elder care and mobile computing, and recognized the accomplishments of several alumni entrepreneurs. The event was hosted by James Cowan Managing Editor, Special Projects with Maclean's.
The first set of presentations, titled "The Art of Thinking Differently", featured presentations by three directors of Sheridan's Research Centres, where our students and faculty collaborate with industry and community partners to create meaningful solutions to real-world challenges.
Michael Rubinoff, Producing Artistic Director of the Canadian Music Theatre Project (CMTP), explained how the CMTP, which first incubated the critically acclaimed and Tony Award-winning musical Come From Away, helps Canadian and international musical theatre writers develop their ideas and contributes to the cultural fabric of Canada. "We discovered that the key to development is failure – and the CMTP provides a safe space for artists to experiment and try different approaches," he said.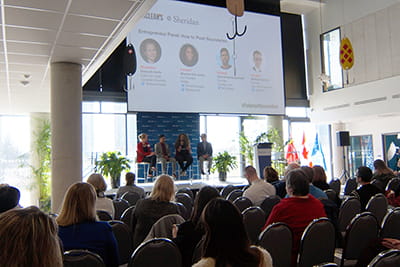 Dr. Lia Tsotsos, Director of Sheridan's Centre for Elder Research, explained how the Centre engages numerous stakeholder groups to challenge the traditional 'blanket' approach to research on aging. "While aging is one of the few factors that unites everyone, older adults are a very diverse population with varying needs and interests," she said. The Centre strives to be inclusive and develop solutions through a participatory, interdisciplinary approach that directly engages older adult users in the development process.
Dr. Ed Sykes, Director of Sheridan's Centre for Mobile Innovation, discussed the Centre's focus on exploring the application of Internet of Things (IoT), wearable technology, virtual and augmented reality, and machine learning to the healthcare sector. He highlighted a few of the Centre's numerous projects, including home healthcare using beacons, the 'smart home' for older adults aging in place, and asset tracking in hospitals.
Deborah Aarts, Editor at Large for Canadian Business, then moderated a panel of three recent Sheridan alumni entrepreneurs: Shauna-Kay Jones, co-founder of Motify; Ganesh Neelanjanmath, founder of iCentApp.com; and Matthew Zarrillo, founder of Zarr Tech Canada. The panelists spoke about how they developed their ideas, how they stay innovative, what inspires them, and shared their advice for fellow young entrepreneurs. They stressed the importance of patience, finding mentors, and continually learning from others.
The event keynote address was delivered by Canadian technology and trends expert Amber MacArthur, who examined the key traits of companies and leaders who continue to thrive at today's breakneck speed of change and innovation. Among her key takeaways were to rethink your organization's purpose, skills and platforms, and to be able to continually adapt to the evolving market. "Change has never happened this fast – but it will also never move this slowly again," she said, quoting Graeme Wood.
The Future of Innovation event also introduced Sheridan's new EDGE Entrepreneurship Hub to the community.
Guests were invited to visit the hub during the break and following the event for tours, and encouraged to attend the Hub's Unlock Your Big Idea Pitch Finale on Thursday, March 22.
Pictured top right: James Cowan, Managing Editor, Special Projects at Maclean's.
Pictured middle right (left to right): Deborah Aarts, Editor at Large for Canadian Business; Ganesh Neelanjanmath, founder of iCentApp.com; Shauna-Kay Jones, co-founder of Motify; Matthew Zarrillo, founder of Zarr Tech Canada.
Pictured bottom right: Bestselling Author, Tech Entrepreneur and Digital Trends Expert Amber MacArthur