Sheridan employees and alumni are among Brampton's Top 40 Under 40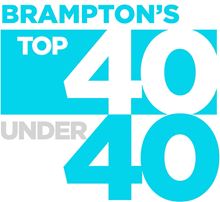 Three Sheridan employees and three alumni have been named to The Brampton Board of Trade's (BBOT) inaugural Top 40 Under 40 list for 2017, which was created to recognize the next generation of leaders. The honourees were chosen by a selection committee and will be celebrated on the evening of Wednesday, June 21 at the Millennium Garden Convention Centre in Brampton.
Read about the six Sheridan-affiliated honourees below.
Kobi Amponsah (Bachelor of Health Sciences – Kinesiology and Health Promotion '16) runs the successful online business, Neck Couture, which creates custom bowties designed from unique fabrics including leather and wooden, hand-carved veneer. His creations have found their way into the hands of celebrities like film director and producer Spike Lee, and rapper and record executive Kardinal Offishall.
Rachel Halaney is an Operations Manager in Sheridan's Faculty of Applied Science and Technology. Her approach of assessing needs and developing systems to address them has been transformative to the Faculty. Under her leadership and in coordination with Sheridan professors and local industry, the Faculty has been able to increase its capacity to deliver 27 (completed and ongoing) applied research projects with an economic benefit to Brampton including job opportunities for students.
Ryan O'Neil Knight (Accounting '12) is the owner and CEO of Detailing Knights, a service that comes directly to customers in the GTA to provide car cleaning services. The environmentally-friendly company doesn't use any water. Instead, it relies on innovative cleaning products that are gentle on the planet.
Daniel Liao is the Chemical Labs Manager at Sheridan's Davis Campus in Brampton. He works to promote the chemical laboratory as a place of innovation and has established more than a dozen industry partners, hosted eight externally-funded applied research projects and held fun and creative chemistry workshops for local students of all ages. He previously worked in the biofuels division of SunOpta as a process engineer and other roles specializing in clean technologies.
Hargurdeep Singh (Mechanical Engineering Design and Drafting Technology '15) is an Additive Manufacturing and 3D Printing Consultant at CAD Microsolutions. During his time at Sheridan, he was an Ontario Co-op Student of the Year and became an expert in Sheridan's cutting-edge 3D technology. His work resulted in award-winning designs including a model of an exoskeleton hand for a man who had suffered nerve damage.
Alvin Tedjo is the Director of Government Relations at Sheridan. Through this leadership role, he's built partnerships in Brampton with industry, the library system, and its Central Area Stakeholders Network – a network through which he's helped Sheridan expand its role in community activities including the International Film Festival of South Asia and the Brampton YMCA. Formerly, he served four Ministers as an advisor in Ontario's Liberal government.