Sheridan's Michael Rubinoff Recognized Nationally for Leadership Excellence
Michael Rubinoff, Associate Dean in the Faculty of Animation, Arts and Design (FAAD) and Producer, Canadian Music Theatre Project (CMTP) was awarded a Gold Leadership Excellence Award (Managerial) from Colleges and Institutes Canada (CICan). Sheridan President and Vice-Chancellor Dr. Mary Preece accepted the award on his behalf at a conference in Ottawa on Monday, May 1.
For the past six years in his role as Associate Dean of Visual and Performing Arts at Sheridan, Rubinoff has been responsible for overseeing nine programs including the renowned, CICAN award-winning Honours Bachelor of Music Theatre Performance. Students from this degree program routinely find work on stages across Canada, on Broadway and on London's West End. During this time he has also served as the producer of Theatre Sheridan, which provides students with experiential learning opportunities in their various disciplines. The students' work comes together on stage and off to deliver six theatre productions at Sheridan per year.
In 2011, Rubinoff founded the CMTP at Sheridan, the first incubator and permanent headquarters dedicated to the development of new works of musical theatre in Canada. As its producer, he has worked to incubate 15 new musicals in its short history and four of those musicals have already gone from school to stage, being picked up by producers, further developed and having their professional premiers. As a result, Sheridan is making its mark on Broadway, not just with alumni performers, but as creators, producers, and contributors of new, Canadian musical works.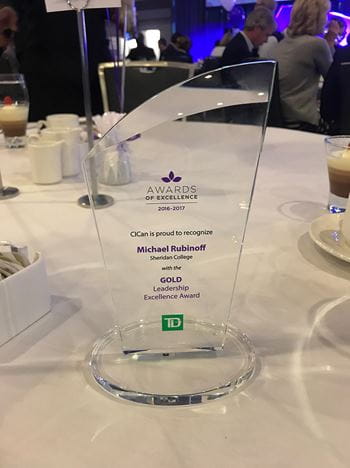 The CMTP has also created meaningful, applied learning experience for students. Since its inception, 160 students have participated in the creation of new musicals through this incubator. Jillian Keiley, Artistic Director, National Arts Centre Ottawa notes, "the magic opportunity that Michael has created gives Canadian musical writers a chance to hear their pieces over a long period, allowing them to make changes and bring their works to new heights. Students get to see themselves serving the greater good of having been an essential part of the development of an artistic work that can now reach thousands of people and audiences."
Perhaps one of Rubinoff's most notable achievements through the CMTP has been with its first musical, Come From Away, about the residents of Gander, Newfoundland who welcomed thousands of people stranded on 9/11. It was Rubinoff who provided writers Irene Sankoff and David Hein with the idea to musicalize the compelling story depicted in the show. In 2012 and 2013, Come From Away was presented at Sheridan, first as a 45-minute musical and then as a fully realized, two-act performance produced by Rubinoff. On March 12, 2017, Come From Away opened on Broadway to critical acclaim and huge box office sales, and is currently in the running for Tony Award nominations, to be announced on May 2.
The strong partnerships Rubinoff has built have enabled Sheridan and its students to participate in international exchanges, be it attending closed dress rehearsals or back-stage tours, working with renowned artists at Sheridan or performing on stages from Toronto's Panasonic to New York City's Lincoln Centre. One of the most recent international partnerships involving Rubinoff is with the Shanghai Dramatic Arts Centre, focused on the co-development of a new musical based on the life of Dr. Norman Bethune, the Canadian physician who left a lasting impression on the Chinese people through his voluntary medical service there in the late 1930s.
"Michael has made Sheridan's name synonymous with leadership in musical theatre both in Canada, across the US and increasingly around the world," says Dr. Mary Preece, President and Vice-Chancellor of Sheridan. "His tireless efforts and infectious passion have catapulted Sheridan's profile, visibility and reputation for excellence in this field."
CICan is a national organization representing 127 member institutions. The Awards of Excellence is an annual program recognizing outstanding administrative leadership, teaching, staff, programs and student leadership. Sheridan has won a total of 18 awards of excellence since 2000.
Pictured above: Michael Rubinoff's Colleges and Institutes Canada (CICan) Gold Medal Leadership Excellence Award.
Pictured at top of page: Sheridan Associate Dean and Producer of the Canadian Music Theatre Project, Michael Rubinoff, with students from the Honours Bachelor of Music Theatre Performance program.