Sheridan Welcomes 50th Anniversary Investment in Colleges by Province
In celebration of the 50th anniversary of Ontario's College System, the province declared April 3 to 9, 2017 as Colleges Week and is making a new investment in each of Ontario's 24 publicly assisted colleges to enhance the student experience.
The Honourable Kevin Flynn, Minister of Labour and MPP for Oakville, visited Sheridan's Trafalgar Campus today to announce that Sheridan will receive $2,801,400 in new funding. "This investment will provide students at Sheridan with state-of-the-art materials including specialized software for teaching, and new lab and shop equipment and technology to modernize existing classrooms and labs, to ensure they have the right skills for a knowledge and technology-driven economy," said Flynn.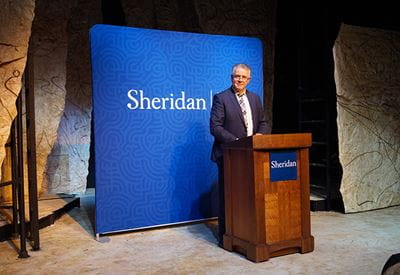 Minister Flynn was introduced by Indira Naidoo-Harris, MPP for Halton, who noted that "Sheridan is leading the way in so many diverse fields, from animation to theatre to gaming. Your successes are all of our successes," she said, adding that "An investment in colleges is an investment in young people and the future of this province."
Hazel McCallion, Chancellor of Sheridan, welcomed the announcement and described how it will benefit Sheridan's students. "$400,000 will be directed to new welding equipment for our skilled trades programs, reinforcing our commitment to offering a range of credentials at the undergraduate level. A further $600,000 will be directed to our Library and Learning Commons, where we can truly touch the lives of so many of our students across a wide range of programs." She noted that the remaining $1.8 million will be allocated in the coming weeks towards enhancing learning environments and technology.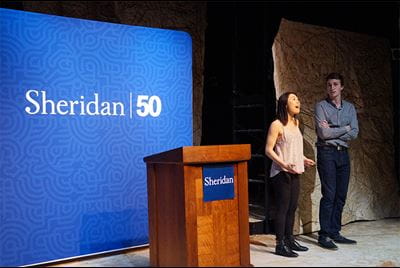 "Sheridan is grateful to the Province for this new investment, which will allow us to build on our strong record of providing students with the hands-on, collaborative and creative learning experiences that prepare them to make significant contributions to Ontario's economic vitality," said Dr. Mary Preece, President and Vice Chancellor.
The announcement was preceded by a short performance from Senza Luce, a new musical by Brian Hill and Neil Bartram, developed through Sheridan's Canadian Music Theatre Project (CMTP). This is the fourth show developed by Bartram and Hill in collaboration with the CMTP. Hill described CMPT as a "win-win" both for creators of new musical works and the students who have the unique learning experience of helping to bring new characters and stories to life. Bartram and Hill's first CMTP-incubated work was The Theory of Relativity, which has since been performed on stages across North America.
Pictured top right (from left to right): Minister of Labour Kevin Flynn, Sheridan Chancellor Hazel McCallion, Minister of Women's issues and Minister Responsible for Early Years and Child Care Indira Naidoo-Harris, Sheridan President and Vice-Chancellor Dr. Mary Preece
Pictured middle: Minister of Labour Kevin Flynn
Pictured bottom: Fourth-year students Kelsey Verzotti and Ben Chiasson from Sheridan's Bachelor of Music Theatre Performance program performing a song from the Canadian Music Theatre Project-incubated musical Senza Luce