From castoffs to haute couture, Sheridan graduate sews to save environment
Velvet Tango is a gown that costume designer Resa McConaghy (Fashion Design-Knit Design '79) describes as 'passion, desire and poetry in motion.'
A vision in scarlet red and black, the gown has old bones. It was created out of a 25-year-old synthetic velvet coat that McConaghy had long stopped wearing, and four yards of old rayon lining bought for $2 a yard – a price she describes as a "splurge". For embellishments, McConaghy found some discarded lace, an old silvery sage scarf, and a silver-grey dupioni silk dress that she teased and twisted together to create flowers and leaves.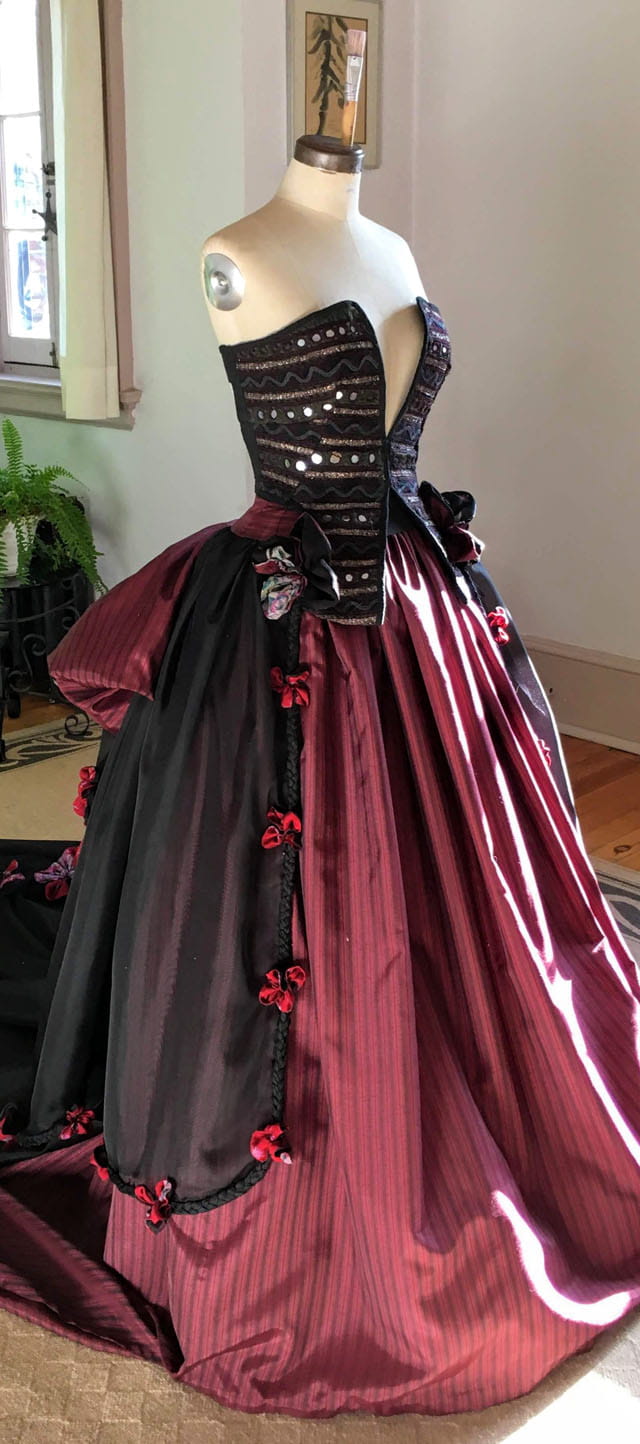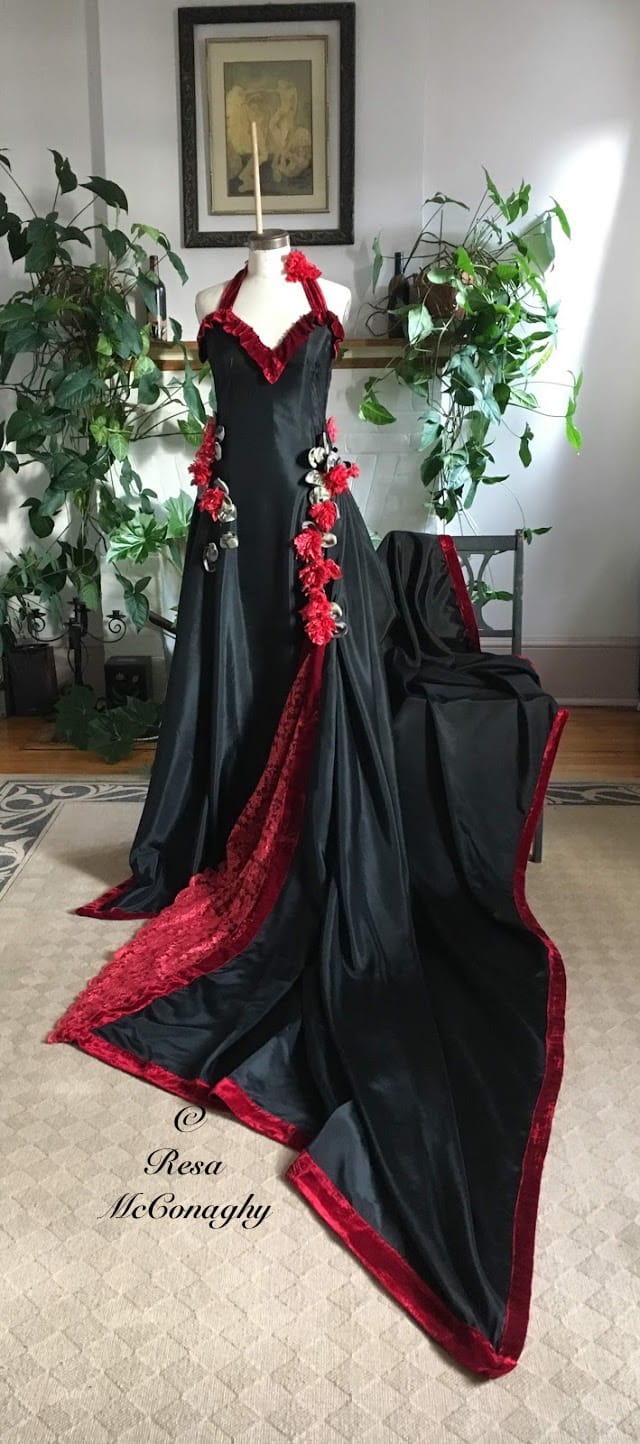 Velvet Tango (Left): Created from a red, 25-year -old synthetic velvet coat, rayon lining, some old fabric, a silvery sage scarf, and an old silver-grey dupioni silk dress. Contessa Fiori: High fashion from curtain sheers, an Indian vintage mirror-work jacket, and a saree.
Like Velvet Tango, every gown in McConaghy's Art Gown Collection is made of discarded materials which otherwise would have ended up in landfills. Each comes with an evocative name as well: there's Lady Anne with a bodice created out of the sleeves of a leather coat, its flowing white skirt embellished with what once were a pair of leather trousers; Contessa Fiori, a magnificent magenta gown, is haute couture made out of curtain sheers, a vintage mirror-work jacket and a saree from India; and Cecilia Lionheart, its flowing skirts comprising 80 neckties that McConaghy cut into strips and then sewed together as she mourned Cecil, the lion who was killed in 2018 by a trophy hunter in Zimbabwe.
"I upcycle and repurpose materials. I do not use machines because then I'd be using oil and electricity and it would go against the spirit of things. I sew by my own hands and it takes me three to six months to make a gown."
The gowns are McConaghy's tribute to environment sustainability. The designer, who has created costumes for more than 50 films, rescues old textiles such as dresses, suits, curtains, cushion covers, pillowcases, tablecloths, jackets, scarves and ties, and with her vivid imagination and creativity, gives them a second lease on life.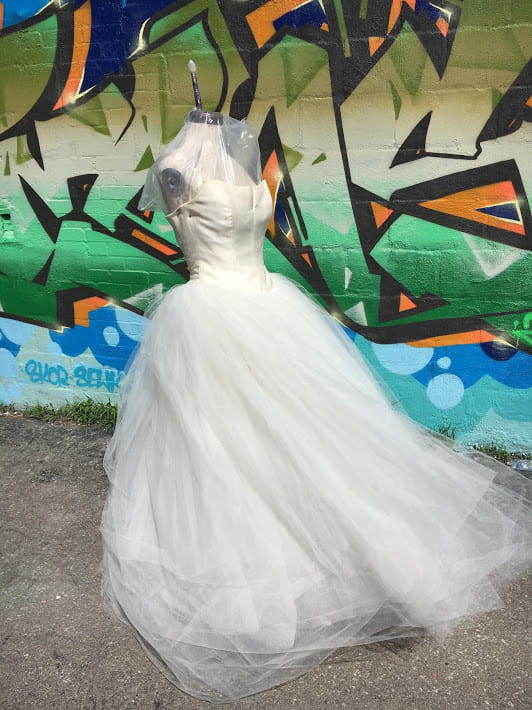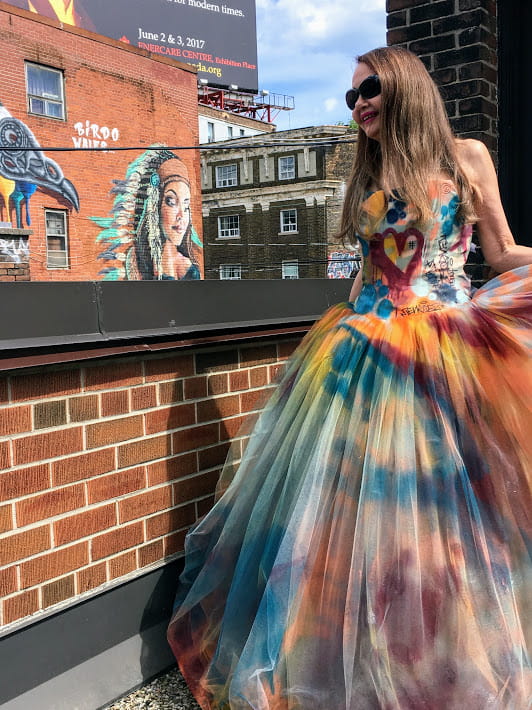 Resa McConaghy in a reimagined 10-year-old white wedding gown, spray painted in Toronto's Graffiti Alley by an artist Tensoe.
"I upcycle and repurpose materials. If I have to, I buy from bargain bins but I won't pay more than $2 a yard," says McConaghy. She also sews all the gown herself, without using machines.
"These gowns are made 100% by hand. I do not use machines because then I'd be using oil and electricity and it would go against the spirit of things. I sew by my own hands and it takes me three to six months to make a gown," she says.
McConaghy started her career as an independent designer with her own shop in Toronto's fashion district of Queen Street. Soon, she carved a niche for herself in the television industry and Hollywood. She worked in series and films including Little Mosque on the Prairie, The Best Laid Plans and Highlander: The Raven and created costumes for leading stars such as Helen Mirren, Whoopie Goldberg, Leslie Nielsen and Peter Fonda, among others.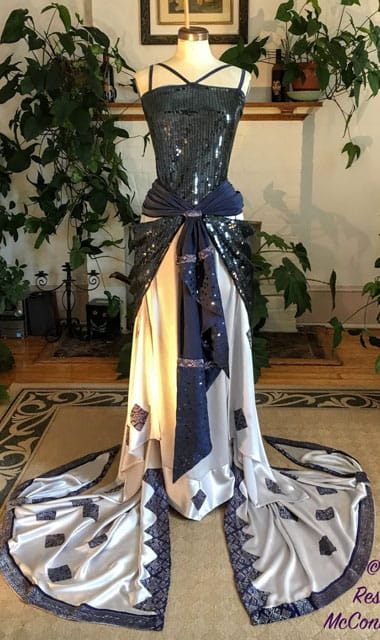 Lady Anne (Left): The bodice is created from the sleeves of a leather coat and its flowing white skirt is embellished with a pair of leather trousers. Cleopatra Capriccio: Made with sequin fabric left over from a TV series, a table runner McConaghy has had since her teens, and an acetate satin curtain lining purchased at a liquidation sale.
In a handwritten note, Mirren thanked her for creating her costumes for The Passion of Ayn Rand and for having been "an incredible help to me (in) building the character (of Ayn Rand)… The piece would never have worked so well without you." It's a missive much treasured by McConaghy, especially since it's written on the letterhead of the Concorde, the supersonic jet Mirren took on her way to Canada.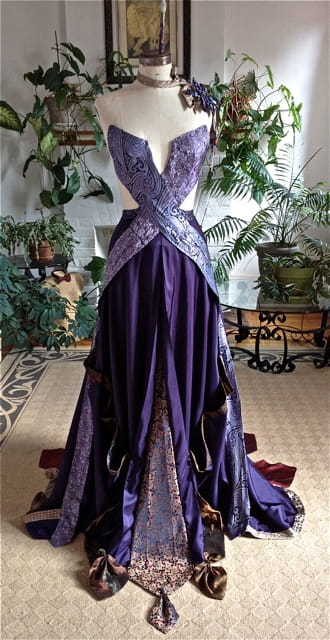 Cecilia Lionheart: Made of 80 deconstructed neckties and old purple curtain lining. It is McConaghy's tribute to Cecil the lion, whose killing by a trophy hunter in Zimbabwe in 2018 created a global outrage.
McConaghy, a voting member at the Emmy Awards as well as the Academy of Canadian Cinema & Television (which administers the Canadian Screen Awards), says busy as she was with her career in films, she felt the need to find a medium through which she could give a free reign to her artistic self. She began to create Art Gowns and when the pandemic happened, she decided to focus on the project to illustrate how art could help conserve natural resources and save the planet. Her decades of association with the fashion industry, where gigantic amounts of clothes get discarded in the never-ending chase for the latest trends, have turned McConaghy into an ardent advocate of environmental sustainability.
"Instead of wearing a Valentino or a Dolce & Gabbana, they'd be wearing an Art Gown and show to everyone that they needn't spend $40,000 to look beautiful. Art and creativity can create treasures from castoffs and save the environment."
"Fashion corporates are motivated only by their bottom lines, and not by a sense of responsibility to the environment. The result is designer brands that only the rich can afford, and cheap fast fashion brands for the rest of us. The cheap fashion mindset, combined with poor-quality garments, results in record-breaking volumes of landfill," she says.
McConaghy says the solution to this lies with consumers themselves who can develop a strong personal sense of style by buying garments that can be used for longer periods of time, incorporating vintage clothing in their wardrobes, and shopping at designer resales and thrift stores. "One can also learn to sew, fix buttons, repair jeans and restyle, instead of throwing out a garment because of these small issues," she says.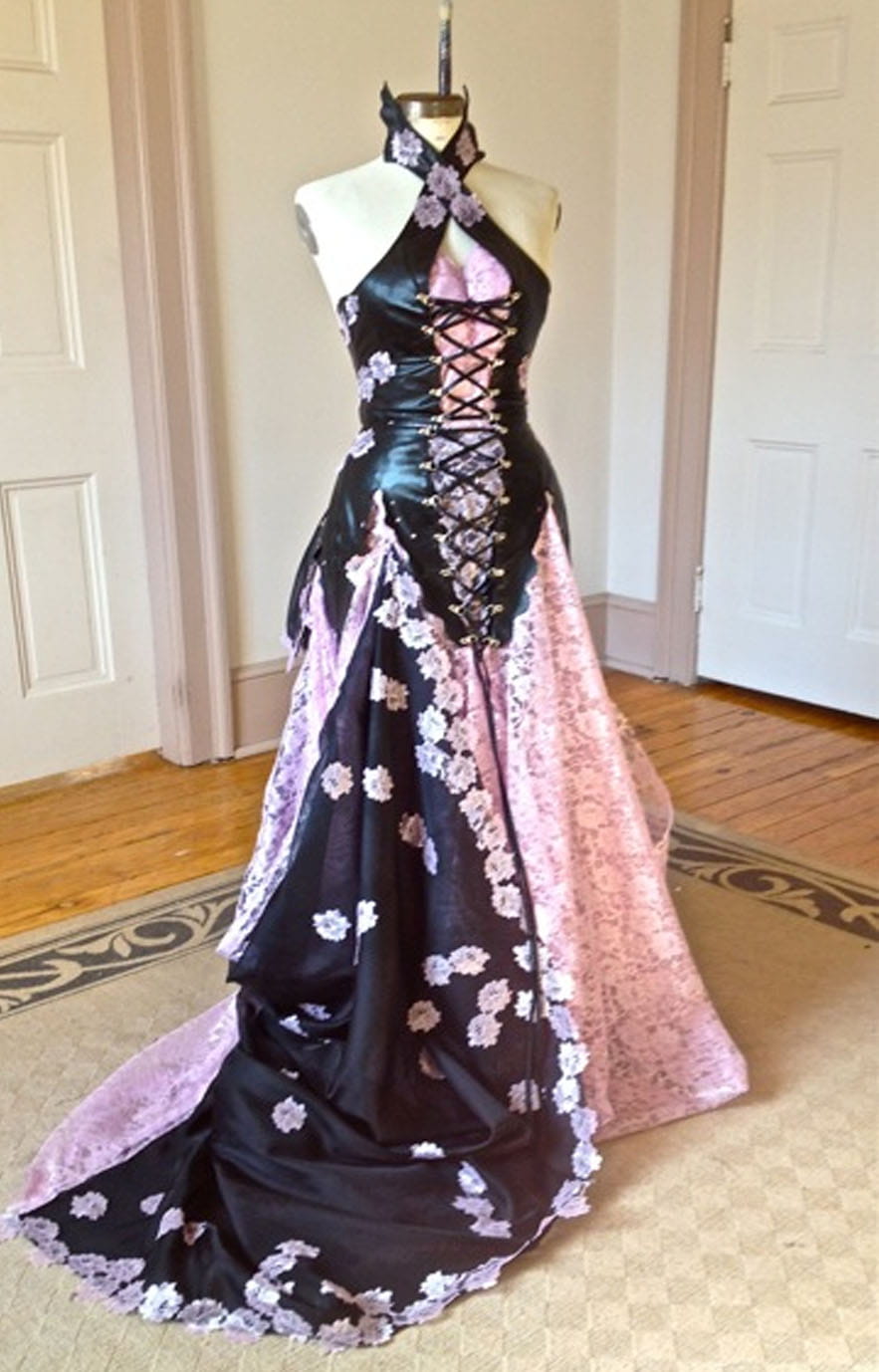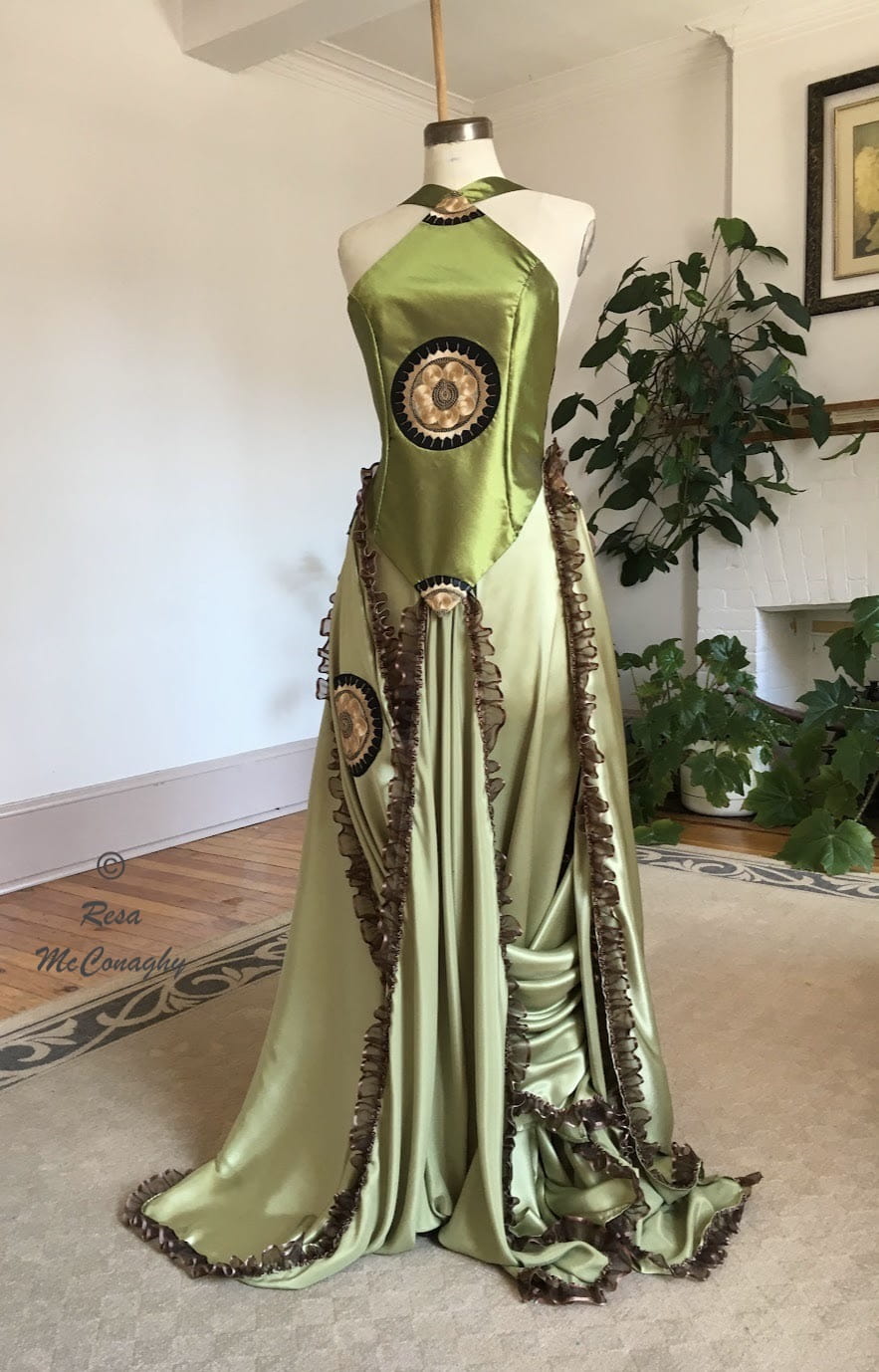 Wild Rose (left): McConaghy created the corset of this gown from a leather mini dress, and the skirt from some inexpensive pink lace, and black voile. She cut out delicate petals from the lace to create over 200 roses and hand-sewed them on the dress. Jade: Made with two vintage pillow shams, green polyester faux silk that was in storage for 30 years, and ribbon from an old gown that was repurposed.
McConaghy is now using her Art Gowns to set an example about recycling, upcycling and repurposing. She says she's willing to lend the gowns for free to film stars who walk the red carpet at film festivals, especially TIFF. "Instead of wearing a Valentino or a Dolce & Gabbana, they'd be wearing an Art Gown and show to everyone that they needn't spend $40,000 to look beautiful. Art and creativity can create treasures from castoffs and save the environment."
---
Banner photo:
Art Gowns created by Sheridan College graduate Resa McConaghy to showcase the value in recycling, upcycling and reimagining old materials to save the environment. (All photos by Resa McConaghy)