EEG project powered by experiential learning
At first glance the device Electronics Engineering Professor Dr. Weijing Ma places on the table appears to be an external hard drive. It's slightly larger than a smartphone, has a matte grey case and is even Sheridan branded. In fact, this is an electroencephalogram or EEG acquisition system, used to measure electrical activity of the brain. With the expertise of students and faculty mentors in Sheridan's state-of-the-art facilities, this innovative device was created as a cost-effective wireless alternative to the conventional wired solution.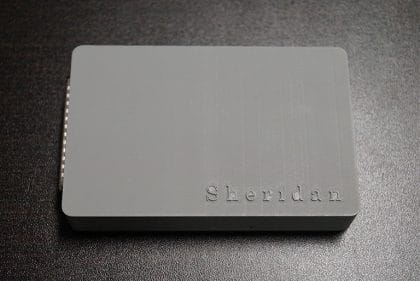 The Sheridan EEG was a spin-off of a pre-existing project with industry partner Cerebral Diagnostics – an Ontario-based start-up company involved in the development of three-dimensional, source localization brain imaging systems – that involved a team of students working to detect migraines through the analysis of brain waves. Having worked on the migraine project and as a researcher in the medical instrumentation field, Ma was well aware of the high cost of many EEG devices. One suitable for medical-grade signals sells for $25,000 to $30,000, is wired to a monitor and approximately the size of a briefcase.
"I felt that our students would be excellent candidates to research and develop an EEG device that's smaller, less expensive and wireless," says Ma. Three seemingly straightforward objectives culminated in one of the most ambitious 18-month projects to come out of the Electronics Engineering Technician/Technology program. Having observed first-hand students' abilities in hardware design, fabrication and system programming, Ma felt confident about putting forward this challenge and felt that the interdisciplinary nature of the project made it an ideal opportunity to showcase their capabilities.
A total of 14 students, professors and technologists contributed to this highly collaborative project. To start, a main integrated circuit (IC) capable of collecting medical-grade EEG signals was selected, which had to be assembled and populated by the students involved. The IC decision informed what circuits were needed, followed by a microchip, a 'brain' to operate the system, the sensors to grab the data and a high-noise sensitive power supply system so as to ensure a high-quality wireless signal.
"If a medical device is solidly connected to a workstation through a cable it loses its mobility and application flexibility" – Dr. Weijing Ma
Ma explains that off-the-shelf EEG acquisition devices have been wired because for many years because hardware limitations prohibited wireless transmission and concerns existed around the confidentiality of patient data. "Nowadays, the Internet of Things (IoT) is a huge trend in the medical field," she says. "If a medical device is solidly connected to a workstation through a cable it loses its mobility and application flexibility." Electronics Engineering (Co-op) student Alphonse Clemente came to be involved in the EEG project after designing an IoT heart-rate monitor for another capstone project. His role began as the lead hardware designer and Ma says that his commitment and expertise made him the cornerstone of the project.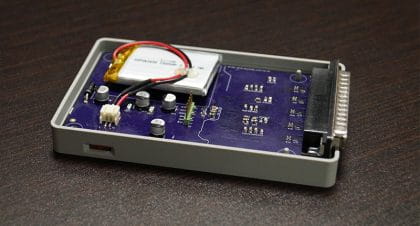 Clemente single-handedly populated the Printed Circuit Board (PCB) with more than 100 different components. So when it was assembled, the first working firmware was uploaded and the device turned on, it was a milestone moment for him and the team. "Even though the prototype is not final, I could see the EEG data through the testing probes. This is what our team had been trying to achieve for more than a year so it was a very rewarding experience," he says.
Mechanical Engineering – Design and Drafting students were also engaged in the capstone project to design and 3D-print a case to keep the PCB safe and secure. They used the facilities in Sheridan's Centre for Advanced Manufacturing and Design Technologies and volunteered their time to print multiple versions. The total cost of the Sheridan EEG, less fabrication costs, is $500 – approximately 1.65% of the cost of an off-the-shelf device. It has 24 channels – a minimum requirement for medical applications – and what's more, it's stackable, meaning multiple devices can be used in coordination to increase the number of channels that wirelessly feed data into a computer.
One challenge the team faced in the development phase came with the micro secure digital (SD) storage, and further work is needed to develop its software capability. Ma describes the project as a nearly-complete package and hopes to continue fine-tuning the device, as does Clemente, although he's now working full-time as an Electronic Technologist for Avnan Electro Inc., where he completed a Sheridan co-op placement. "I'd like to see this project completed to its full scope," he says. "I take pride in the work that I've achieved thus far and the school I represent."
"…I could see the EEG data through the testing probes. This is what our team had been trying to achieve for more than a year so it was a very rewarding experience" – Alphonse Clemente
All told, the Sheridan EEG Project is a tangible success story of applied learning and collaboration. "We have other projects like this being undertaken in Engineering where students design a PCB for industry, but with the extremely small signals involved in this project, we knew it would be a particularly challenging," says Ma. Clemente reflects on the complexity of the project and the importance of having both peer and faculty mentors with a wealth of knowledge to tackle specialized challenges. "The experience working on the EEG improved my engineering technologist and team working skills," he says. "I'll continue to implement them in my career."
---
In addition to Alphonse Clemente and Dr. Weijing Ma the following Sheridan students, faculty and staff contributed to the EEG project:
EEG Student Team: Andriy Perepelkin (Electronics, Co-op), Aaron Wang (Electronics, Co-op), and Dhamil Vyas (Mechanical Design & Drafting), Nebojsha Ivanovski (Electronics, Co-op).
Electronics Faculty: Dr. Farhang Sahba, Paymon Sani-Bakhtiari, Dr. Alexander Levchenko.
Mechanical Faculty: Dr. Aravind Venkatapathy, Dr. Amir Alfalahi.
Technologist Support: Attila Nagy, Thomas King, Lawrence Porter.
Pictured at top of page: Electronics Engineering Professor Dr. Weijing Ma holding the Sheridan EEG device
Written by: Keiko Kataoka, Manager, Communications and Public Relations at Sheridan