The dangers of high-impact concussions in sport have been in the public eye for quite some time, but Dr. Loriann Hynes has shown that you don't have to hit your head to get a concussion. Her research found that whiplash-associated disorders and concussion occurred together in hockey players, regardless of how they were injured. This finding has influenced the assessment, treatment and safety of athletes.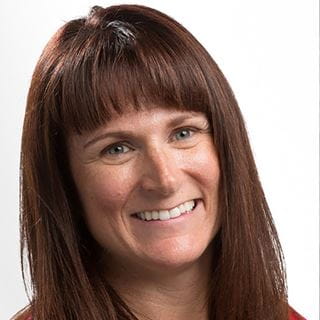 "Loriann's work with non-impact concussions is pivotal," said Sam Gibbs, Head Therapist for the Canadian Men's National Basketball Program and Chief Therapist, 2015 Pan Am Games.
"Damaging concussive events are evident even when we aren't looking for them. Loriann has shone the spotlight on these events and is changing the game as a result," added Gibbs, himself a 1998 graduate. "We are now devising more effective methods of managing and measuring concussive events real-time and in the field. This will allow therapists to make decisions that will rescue more lives and careers."
One of these tools is a concussion assessment instructional video Hynes helped produce for the Toronto Blue Jays Baseball Club that will be used for athletic trainers in Major League Baseball.
Hynes' 2006 research was underscored with hockey star Sidney Crosby's 2011 injury and the addition of a neck examination to the international protocol for concussion evaluation.
A certified athletic therapist and professor, Hynes applies her research-based approach to program improvement and teaching. Since July 2015, she has been Assistant Professor and Program Coordinator in the School of Kinesiology and Health Sciences at York University. For the previous 15 years she was a Professor in Sheridan's Bachelor of Applied Health Sciences (Athletic Therapy) program – among other roles.
"Her development and evolution of the Emergency Conditions curriculum was unmatched in the field. Students saw great value in what she delivered." said Trevor Cottrell, Program Coordinator, Sheridan's Bachelor of Applied Health Sciences ‐ Exercise Science and Health Promotion. In particular, students hailed Hynes' use of manikins for patient simulation in collaboration with Sheridan's Practical Nursing Program as "a phenomenal learning experience."
Such a student-centred approach pushes Hynes ahead of others in the field, according to George Poulis, Head Athletic Trainer for the Toronto Blue Jays. "She takes it to the next level in motivating her students, which in turn helps their career advancement." (The Blue Jays offers an internship to Sheridan athletic therapy students.)
Hynes, who practiced for six years before starting graduate work, points to her Sheridan training as the foundation of her career. "Treating patients allowed me to see this trend between those who had a neck injury and a concussion and led me to pursue this post-graduate research." Following her college education, Hynes completed Masters and PhD degrees in Biophysics.
Dr. Loriann Hynes is a 2015 Ontario Premier's Award nominee in the Health Sciences category. The Premier's Awards honour one outstanding Ontario college graduate in each of six categories annually.