Breaking down barriers: How an inclusive environment created new opportunities
Nearly three decades after graduating from university, Wafa BenMahmoud decided to go back to school to learn how to better understand the youth she worked with as a teacher and counsellor. BenMahmoud's biggest fear about attending Sheridan, however, was that people might misunderstand her.
"I was very worried about barriers I might face as an older student who speaks English as a second language and also as a visibly Muslim woman who chooses to wear the Hijab," says BenMahmoud, who has felt targeted by airport security checks and experienced other incidents of Islamophobia since emigrating from Libya at the age of 21. "When I started at Sheridan, whenever a professor would look at me, I'd think it was because I was wearing the Hijab or because I'm Muslim."
But that isn't what Julie Jaglowitz saw when she looked at BenMahmoud. "My first impression of Wafa was that she was sacrificing a lot to be at Sheridan," says the co-ordinator of Sheridan's Child and Youth Care (CYC) advanced diploma program. "Here was a mother of three and a leader in her community who was looking to upskill, had a direction in which she wanted to go and was very serious about it."
Dispelling ideas of oppression
Not that Jaglowitz and her colleagues didn't recognize the challenges that BenMahmoud and other racialized persons often have to overcome. The promotion of equity and inclusion has long been a pillar of the CYC program, which includes a commitment to anti-oppressive practice. In fact, the program was recently accredited by the Child and Youth Care Educational Accreditation Board and recognized for its anti-oppressive practices and emphasis on equity. "Advocacy is part of our Vocational Learning Outcomes," Jaglowitz says, "so we have to model that."
"It's important for us as professors to realize that we can also learn from our students and co-create an education that values their lived experience." – Julie Jaglowitz, Sheridan Child and Youth Care advanced diploma co-ordinator
In addition to encouraging BenMahmoud to approach her professors with any issues she might be experiencing, Jaglowitz also invited BenMahmoud and a student from Turkey to lead a Turkish Coffee ceremony in her Creative Therapeutic Programming class. "They brought in traditional sweets from Libya and Turkey and poured everyone a cup of coffee in traditional cups, which really broke the ice," Jaglowitz says. "Suddenly, we were discussing what it means to be a Muslim and why Wafa chooses to wear the Hijab and why her peer does not, dispelling ideas of oppression that other students might have had."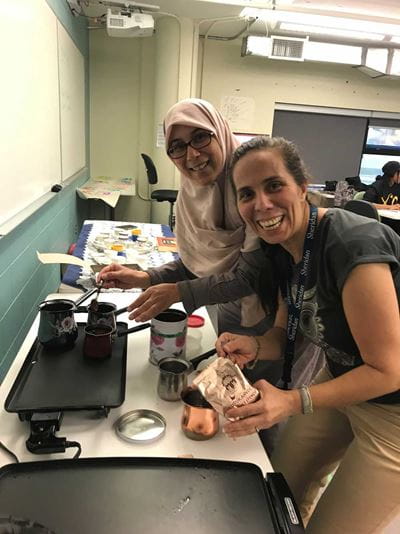 As BenMahmoud began to feel more comfortable, she started to express herself more as well. She pointed out to Jaglowitz how a timed quiz wasn't fair to those working in their second language, and Jaglowitz gave her private access to the CYC lab after realizing one of BenMahmoud's classes overlapped with a Muslim prayer time. "It's important for us as professors to realize that we can also learn from our students," Jaglowitz says, "and co-create an education that values their lived experience."
Building connections and independence
BenMahmoud's lived experiences have also shaped her career as a teacher and counsellor, especially as someone who knows what it feels like to not have a voice. "I didn't have a fun childhood," she says of growing up in the regime of Muammar Gaddafi. "We had to wear army clothes to high school and you couldn't express your opinions. It was very sad."
BenMahmoud first began working with children after moving to Canada in 2008, when she started teaching Arabic language and Islamic studies at a private school in Mississauga. The principal of the school noticed how children gravitated toward BenMahmoud and suggested that she become the school's counsellor instead. "The children are the ones who led me into this field. It came naturally – I didn't plan it," BenMahmoud says. "Any child who had a problem would come to me and we'd build a connection that enabled them to feel they were heard and speaking to someone who understood what they were going through."
That feeling of being understood is something that BenMahmoud feels is often lacking in immigrant homes. "The parents have their own culture and beliefs that they bring with them, while the children are engaging with society differently and bring a lot of new ideas back to the house," she says. "That can put youth in a difficult position in which they're trying to please their parents while also having the independence of choosing their own way of life."
BenMahmoud hopes to bridge that gap between parents and children through Matab for Youth, an organization she began a year ago that targets teenagers in the Muslim community. She is also a long-time volunteer at a shelter for divorced Muslim women, helping them develop independence by improving their language skills, securing employment or simply teaching them how to open an e-mail or catch a bus.
'You have to believe in yourself'
Last year, Sheridan recognized BenMahmoud's many contributions to her community by naming her the first-ever recipient of the CYC Elizabeth Fry Changemaker Award, an accolade presented to a student who has worked to empower women and girls through a trauma-informed, inclusive and gender-responsive lens to strengthen their emotional, cultural and social well-being. "It's a huge honour, considering there are more than 500 students in our program," notes Jaglowitz. "Our entire faculty agreed she was the perfect candidate for the award."
Jaglowitz also encouraged BenMahmoud to become a peer mentor in her final year of studies, an experience that provided BenMahmoud with one more takeaway from her time at Sheridan: she's capable of helping people regardless of their culture or background. BenMahmoud now has her sights on working in a public school, something she admits she wouldn't have considered in the past.
"It's like what I tell the people I work with. Don't think about all the barriers." – Wafa BenMahmoud
"Sheridan has opened my eyes to the many opportunities that are out there," she says. "I've always been too nervous about how I'd be perceived, again as someone who is older and wears the Hijab. But I've learned so many things, met amazing individuals, gained trust in my abilities and built confidence.
"It's like what I tell the people I work with. Don't think about all the barriers. You have to believe in yourself and take the first step, put in the effort, and you'll find people who will support you."
---
Wafa BenMahmoud: Wafa BenMahmoud, pictured at Trafalgar Road Campus. (photo submitted by Wafa BenMahmoud)