Alumni who make a difference
It's a rare day when Samantha Jagt is not told she has the best job in the world. No wonder: she's a Coordinator in the Puppy Program at the Lions Foundation of Canada Dog Guides. She and her colleagues, fellow Animal Care graduates Angela Bentivegna and Gloria Peckham, are transforming the lives of Canadians with disabilities.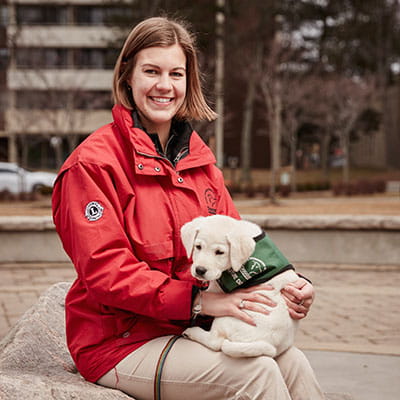 Working with puppies every day is a sweet enough gig, but knowing that her playful charges are destined to help transform the lives of people with disabilities is the icing on the cake, says Jagt. "These cute little balls of fur go on to do very important jobs, and there are many steps along the way to prepare for that."
Jagt joined the Dog Guides after graduating from Sheridan's Animal Care program in 2014, starting in the Foundation's breeding facility near Kitchener, Ontario before transferring to the main Oakville training centre. Once the puppies reach eight weeks old, they are placed with foster families from across the GTA for a year. Then the dogs come to the Oakville facility to receive four to six months of formal training.
This is where Jagt's fellow animal care alumni Gloria Peckham and Angela Bentivegna come in. (All three are pictured above, L to R: Jagt, Bentivegna and Peckham.) Peckham is Head Trainer of the Seizure Response Dog Guide and Diabetic Alert Dog Guide programs (which she developed) and Bentivegna is a Trainer in the Hearing Ear program. They train an average of eight dogs at once, teaching them to recognize sounds, signal for help and activate alert systems, among other response behaviours. "Because I'm hard of hearing myself, I can directly relate to my clients' experiences," adds Bentivegna who has been in this job for eight years.
I love watching a client bond with their dog. It's like magic when everything comes together.

- Angela Bentivegna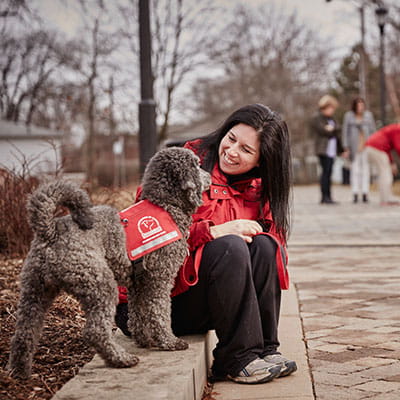 About 70% of the 200 puppies entering the program each year graduate to become dog guides. The dogs are then matched with clients from all over Canada who stay at the Oakville training facility anywhere from two to four weeks to work with their dog guide. To date, over 2,300 Dog Guides have been matched with people from across the country.
This stage of the process is one of the best parts of the job, according to Bentivegna. "I love watching a client bond with their dog and seeing that bond strengthen over time. It's like magic when everything comes together and all the work the client puts in really starts paying off."
But training is not a one-size-fits-all proposition, agree all three alumni. "Each dog has a different set of strengths which you try to fit with the clients who each have their own unique set of requirements, even within the same program," Peckham explains.
Once the clients return home with their dog, the trainers make follow-up visits to monitor progress, always a highlight, says Peckham, who has been part of many success stories over her 20 years with the Foundation. "The most rewarding aspect of this work is watching our teams succeed in the real world once they bring the dog guide to its new home. These dogs allow people to enjoy independence they never had before."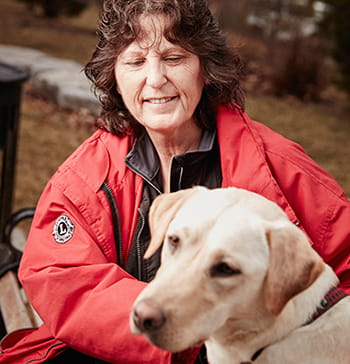 However, this independence does not come at the expense of the dog's quality of life, says Bentivegna. "One of the biggest misconceptions people have in this field is that the dog guide has no 'down time' because they are always working. On the contrary, they enjoy a great deal of play-time. These are working dogs who are bred to help and be a partner to the person with special needs."
Angela Bentivegna was featured in a Macleans magazine video about people with cool jobs. Watch it here
Click here to learn more about the work of these alumni.
---
Written by: Carol Hill, (retired) Editor, Ovation Magazine.