One foot closer: Raising awareness about cystic fibrosis
Mikayla Bianchin has anticipated the release of the feature film Five Feet Apart since learning it was being adapted into a screenplay from one of her favourite novels. Its story centres on two teenagers with cystic fibrosis (CF) – the most common fatal genetic disease affecting children and young adults in Canada. The narrative resonates closely with the first-year Sheridan Honours Bachelor of Illustration student. Like its main characters, she lives with CF, and faces daily medical interventions to maintain her health. Not only will Bianchin be supporting the film in the theatre audience, she collaborated with Inkbox on a Five Feet Apart collection of temporary tattoos with a portion of the proceeds going to Cystic Fibrosis (CF) Canada.
"Living with CF is all I've ever known. This is just who I am. It shapes me as a person and makes me different."

– Mikayla Bianchin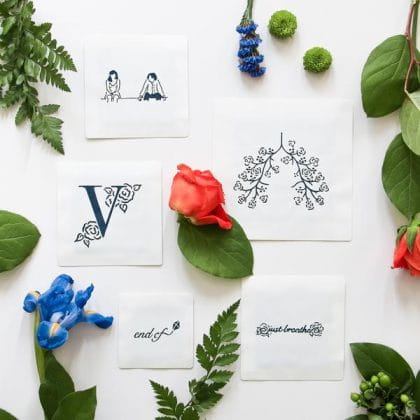 Those who meet 18-year-old Bianchin for the first time might be hard-pressed to know she's living with the progressive disease. CF mainly affects the digestive system and lungs, wearing down their function over time.[i] Aside from fatigue and a persistent cough, her experience with CF is mostly hidden. What's more obvious when meeting Bianchin is her optimistic energy and vibrant personality. "Living with CF is all I've ever known," she says, smiling. "This is just who I am. It shapes me as a person and makes me different."
Every day Bianchin completes two inhalation therapies, takes 50 pills and does physiotherapy. She regularly visits the hospital for evaluation, which might include bloodwork, x-rays and IV treatments. In the past she's had surgeries as well. "I do have my bad days when I feel weighed down by the disease," she says. "Even if I'm feeling good I have to make time to actively maintain my health to stay out of the hospital." Studying in her dream program at Sheridan, she is eager to be in class with her peers and stay on top of her assignments.
To stay positive through the turbulent times with CF, Bianchin uses art as a creative outlet, turning to a canvas to express herself. So, when CF Canada approached her about working with Inkbox on the Five Feet Apart collection, it was a welcome opportunity. Not only could she share her artistic talents, but she could work to ensure that others who have CF would feel appropriately represented in the design process and be inspired by the final product. "I want those with CF to feel a connection to the collection," she explains. "It's important to me that the tattoos have significance to the CF community."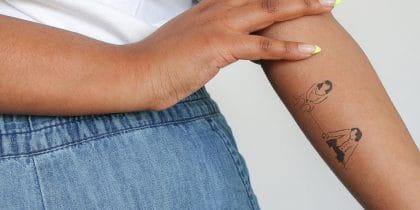 One of the five tattoos Bianchin designed has been named in her honour. The "Mikayla" features roses – a common symbol for CF – growing in the shape of a pair of lungs. Another says the popular phrase 'just breathe.' One is a silhouette of the film's main characters seated apart. For people with CF, due to the possibility of spreading deadly bacteria between one another, there's a medical necessity to keep six feet apart. The film references five feet as the characters are symbolically reclaiming a foot of closeness as they fall in love.
Keeping this distance is something that Bianchin knows all too well. Her younger sister Madison also has CF. There have been occasions when they've had to stay apart when in the same home. "We are extremely close, so this is challenging for us," says Bianchin. "I feel fortunate that I have my sister on this journey with me. Like with most things, it's hard to truly understand an experience unless you've been through it. We know what the other is going through and connect on a deep level."
Bianchin's parents work tirelessly alongside their daughters and CF Canada on various initiatives aimed at spreading awareness and understanding of the disease. It was through this work that the organization became aware of Bianchin's passion for illustration. "It was an honour to ensure she was involved so that a CF perspective was included," says Jennifer Stranges, Corporate Communications Associate at CF Canada. "We're so proud of Mikayla's work and the collection has been well received by our community.
It's not often that CF is portrayed in mainstream media, so the film and the Inkbox collection is exciting for Bianchin, and combined with the new portfolio pieces she's developed, she is energized by the whole experience. She has already seen the film in theatres twice, taking her friends on the latest outing. "It's such a complex disease that it's hard for even some of my close friends to understand what it's like to live with CF," says Bianchin. "I just hope people understand CF and me a little bit better."
---
To learn more about Cystic Fibrosis, visit the CF Canada website.
View Inkbox's Five Feet Apart collection.
---
[i] https://www.cysticfibrosis.ca/about-cf
Pictured at top of page: Sheridan student Mikayla Bianchin. Photo by Keiko Kataoka.
Written by: Keiko Kataoka, Manager, Communications and Public Relations at Sheridan.