Jeff Lemire on the journey from kitchen staff to Secret Path
Before Jeff Lemire was an award-winning author and illustrator of titles including Essex County, The Underwater Welder and Roughneck, he was an aspiring artist spending his days drawing, and nights toiling in restaurants around Toronto. When he decided to learn to make a living as an artist, he enrolled in Sheridan's one-year Advanced Illustration program. Twelve years later, Lemire's books are New York Times bestsellers; he's the winner of the 2017 Eisner Award for Best New Series for Black Hammer; and he's received the Schuster Award for Best Canadian Cartoonist twice.
He's also the illustrator of Secret Path, a graphic novel accompaniment to the album of the same name by Gord Downie. The novel and album tell the story of 12-year-old Chanie (Charlie) Wenjack, who died in 1966 while escaping from a residential school. Ovation asked Lemire about his time at Sheridan and his work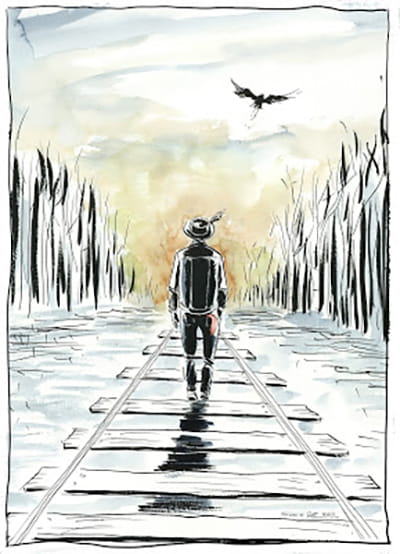 Q: You studied film at Ryerson right after high school, and then came to Sheridan later on. Why did you choose Sheridan?
A: I was drawing all the time and doing my own comics. I didn't feel like I was good enough to have anything published. That's when I started to look around for post-graduate courses to turn my skill set into a career. You can teach yourself how to draw, but it's hard to know what to do with it, the business side of it.
Q: How did Sheridan help you with that?
A: Sheridan really opened me up artistically. I had an instructor named Joe Morse. He taught life drawing and I'd never done that before. He took my work to a new level and gave it a professional quality. In Joe's class I started doing work on these vintage hockey player paintings. When I graduated in 2005, those painting led to me starting Essex County. Before I went to Sheridan, I was looking to find voice as a writer and as an artist. It was through the year at Sheridan that I really honed in on that. After Sheridan I spent a year working on Essex County. My career took off right away and just kept going. It really was a breakthrough for me.
Q: You work on weekly and monthly comics for Marvel and DC, but you also get to pursue your personal projects. What do you enjoy about that variety?
A: I can pick and choose projects, which is great. When you're starting out, you'd be willing to do anything to make a living doing this thing that you love. You can't ever imagine being in a spot where you have to turn down work. I feel pretty blessed about that.
"It's very easy and convenient to forget things about our past that don't make us feel good about ourselves. But if we do that … it doesn't help to start the healing process to bring our cultures together."
Q: You've travelled in northern Ontario and learned about Indigenous issues. That work, in part, inspired Roughneck. What spurred your interest in Indigenous issues?
A: Essex County was a romantic, idealized look at Canada's past; a lot of it was very true to where I grew up and the experiences I had. Ten years after, I started to realize the way I look at Canada now is so different from the way I did back then. I started to think more about that. We didn't learn anything about the Aboriginal people at all in school… As a Canadian storyteller, I felt responsible. If I was going to continue to tell stories about where I'm from, I should try to tell other kinds of stories as well, or at least educate myself and maybe by doing that educate my audience a little more.
Q: Perhaps the most well-known work telling those stories is Secret Path. You are very honest about the need to balance the fact that, because you are not Indigenous, Wenjack's story may not be yours to tell, but it must be told. How did you get involved in this project?
A: Gord and (his brother) Mike Downie were big fans of Essex County, that was super flattering. They wanted to release the album but also turn it into something more to draw attention to the story. I heard the music and I got really drawn into the story… (residential schools) are very dangerous for us to ignore. It's very easy and convenient to forget these kinds of things about our past that don't make us feel good about ourselves. But if we do that, I think we really do a disservice to what happened. It doesn't help to start the healing process to bring our cultures together.
Q: Why do you think a comic book is a powerful way to do that?
A: The reason I love comics so much: I think it's a medium that can tell any kind of story. And I think this is a perfect example of that. With comic book drawings it becomes a little more abstract. The reader, whether a child or an adult, can project their own reactions and emotions to the work, which maybe they wouldn't be able to do if it were photographs or film. I think maybe that's why it's been so effective.
Q: Secret Path was made into an animated film, but it's not the only one of your works to be adapted for the screen. Six books are being now being turned into films or TV shows, including The Underwater Welder, Descender, and Essex County. You seem to have come full circle as a former film student.
A: It's almost like when I stop trying to do something that it ends up happening … I studied film and I didn't feel like it was right for me, and now, without trying, my stuff is being made into movies. It's kind of surreal and ironic but obviously really great.
---
Pictured at top of page: Sheridan alumnus and illustrator Jeff Lemire.
Written by: Jill Scarrow, Manager, Advancement Communications at Sheridan.