Sheridan welcomes move to expand engineering degrees at colleges
Sheridan's President and Vice Chancellor welcomed the recent announcement by the provincial government that it has approved the expansion of engineering degrees at colleges. "Sheridan is very well-positioned to help meet the demand for specialized engineering degrees," said Zabudsky. "We are actively engaged in numerous industry partnerships through the Centre for Advanced Manufacturing and Design Technologies (CAMDT) at our Brampton campus, and are keenly aware of the need for highly skilled, specialized graduates to advance local industries' competitiveness in the global market."
Currently, Conestoga College is the only one in Ontario that offers engineering degrees – in electronic systems and mechanical systems – at its Cambridge campus. However, a number of industry partners in communities throughout the province have identified a need for similarly targeted engineering programs in a range of specialized areas.
Sheridan's CAMDT is one of the best equipped research and training facilities in the country. Its infrastructure includes the ABB Robotics Lab, which boasts the first YuMi robot of any postsecondary institution in the country. CAMDT's 3D printing lab is second to none, thanks to the support of industry partner CIMETRIX Solutions Inc.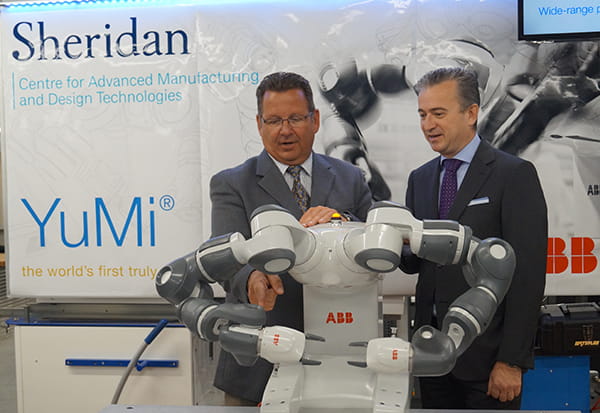 Casey DiBattista, VP and General Manager, ABB and Dr. Jeff Zabudsky
"Our engineering programs address the increasing call for 'real world' skills," added Zabudsky. "They're rooted in innovation, design thinking, interdisciplinary learning, applied research and creative activities. We embed both theoretical and applied learning, create opportunities for multidisciplinary collaboration, and link our education to industry and community needs."
Opportunities for interdisciplinary collaboration will expand with the opening of a new Centre for Skilled Trades at the Davis Campus in 2017. This state of the art facility will house postsecondary, apprenticeship, pre-apprenticeship and school-college work initiative dual-credit programs.