Sheridan nursing program using VR technology to simulate real-world scenarios
As someone with extensive experience working in health care environments, Rocio Paz knows that life comes at nurses fast.
"You aren't just dealing with the patients, you're dealing with their families, and you never know when something might happen," says Paz, who has spent nearly two decades as a registration and admissions clerk at various area hospitals and clinics. "You need to know how you're going to respond in situations like that."
Paz and other students in Sheridan's Practical Nursing diploma program will soon be better prepared to navigate those types of fluid conditions. The program recently implemented immersive virtual reality (VR) technology into its curriculum, utilizing UbiSim software that runs on Oculus Quest 2 headsets and is designed to develop nursing students' clinical reasoning, decision-making and communication skills.
The simulations provide students with first-person experience caring for a patient in a hospital room — whether it's reading detailed medical histories, checking vital signs, administering medication, following sanitization protocols or even comforting anxious family members. Participants dictate their choices and actions via hand-held clickers, and faculty can customize the software to use it as a teaching tool, to provide hands-on experience or for evaluative purposes.
"It literally feels like I'm taking care of a patient," says second-year nursing student Jessica Terry. "Everything is touchable and movable. It's really cool. I'd never even done VR before, but it was easy to use."
Enhancing applied learning experiences
Though Terry and Paz are both mature students who changed careers during the COVID-19 pandemic and have benefitted from the ability to complete some of their studies online, Sheridan's investment in VR technology wasn't prompted by the pandemic-induced shift towards virtual learning.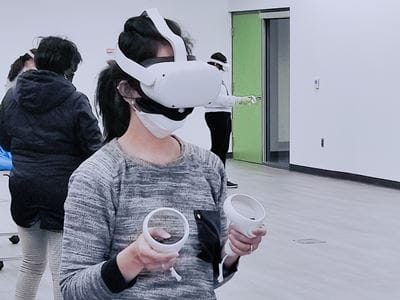 In fact, the nursing simulation software might have been here sooner if it weren't for the global microchip shortage caused by the pandemic. Faculty of Applied Health and Community Studies (FAHCS) Dean Michael O'Leary and staff first broached the idea in 2018 when the faculty's academic plan implored professors and administrators to consider ways in which they could improve teaching and learning.
"Advances in virtual reality first came in gaming platforms, so it was natural for us to consider whether we could use that same theory and apply it to teaching and learning," O'Leary says. "When artificial intelligence began to ramp up a few years ago, the possibility to have virtual humans who are responsive in real time to users was a difference maker. It takes you out of the game format; it still uses a game engine, but your responses drive the game, rather than the game driving your responses."
"The options are endless to help prepare our students for the real world."

– Sheridan School of Nursing Associate Dean Lindsay Anderson
O'Leary is quick to add that the VR software will be used to complement — not replace — the applied learning experiences the program has long been providing, such as the use of mannequins that are programmed to display symptoms of various conditions and diseases. "VR will allow us to create different situations and scenarios that students might encounter in a hospital environment that we can't otherwise simulate, like how to deal with a family that is concerned about their child who is having a seizure or how to perform a resuscitation," notes Lindsay Anderson, Associate Dean of Sheridan's School of Nursing. "The options are endless to help prepare our students for the real world."
'Next-generation learning'
The value add is obvious to students like Terry, a former blogger who discovered her passion for nursing when she spent seven months supporting her late mother's battle with cancer. "Nursing 20 years ago was not what nursing is today, when nurses are given an iPad and can scan the wrist of their patient to get the information they need. This VR simulation software will really modernize Sheridan's program," Terry says.
"It will also help students develop critical-thinking skills through dynamic scenarios that you can't quite recreate with a mannequin, like when the patient's blood pressure suddenly drops. It forces you to quickly think on your feet when something happens — which is exactly how it is in real life."
"Every nursing student should have the opportunity to experience this."

– Practical Nursing student Rocio Paz
Paz agrees. "The scenarios that the VR software simulates are just like the ones that I've seen in actual hospitals and clinics. This will be great for learning, and it will also be great for identifying what your strengths and weaknesses are," she says. "Every nursing student should have the opportunity to experience this."
Several other programs in FAHCS will also benefit from Sheridan's investment in VR technology. The faculty is seeking to expand the impact of VR into areas of public safety programming, additional applied health programs and interdisciplinary learning.
"This is where we want to go in terms of next-generation learning — not only in the delivery of high-quality education that breaks down borders of the classroom, but also the depth to which we can engage faculty in developing content," O'Leary says. "This technology will allow our students to get a much deeper understanding of concepts than they would from reading a textbook."
— Top photo courtesy of UbiSim. Photo of Practical Nursing student using UbiSim software by Deb Coore, Digital Content Specialist in Sheridan's Faculty of Applied Health and Community Studies