Domee Shi breaks new ground with remarkable career
In the decade since graduating from Sheridan, Oscar-winner Domee Shi (
Bachelor of Animation
'11) has carved a unique place in the world of animation.
Her unexpected but delightful characters stay true to her roots growing up in Toronto as the child of Chinese immigrant parents, while also bringing to life universally relatable stories about the push and pull of the parent-child relationship.

In her latest film, Turning Red, an ungainly but lovable red panda becomes the perfect metaphor for the awkward early teen years. The film, available on Disney+ on March 11, is also generating plenty of buzz for being unapologetically Toronto-centric: rumbling streetcars, the CN Tower and even bagged milk make up the backdrop for the authentically multicultural characters.

Turning Red – which is also Shi's debut as director of a major feature film – is just the latest in her anthology of work inspired by her own experiences. In 2018, her Academy Award-winning short film Bao was partially inspired by her own mother. It tells the story of an aging Chinese woman who gets another chance at motherhood when one of her dumplings springs to life. The woman excitedly welcomes the new bundle of joy into her life, but as the dumpling begins to grow, she must come to terms with the fact that nothing stays cute and small forever.

Shi returned to Sheridan back in 2018 to reflect on her time spent here as an emerging animator, and the path she followed to Pixar and her work on Bao. The eight-minute film was then billed as Pixar's longest-running short, and made Shi the first female director to helm a Pixar short film.
"Growing up as an only child to my Chinese parents, ever since I was little my mom would treat me like her own precious dumpling, making sure I didn't wander off or get into trouble," Shi said, ahead of Bao's release. The word "bao" can mean "steamed bun" or "something precious," depending on its pronunciation.
Shi's love of fairy tales also influenced the storyline. She saw Bao as an attempt to create a modern-day, Chinese version of the classic Gingerbread Man story.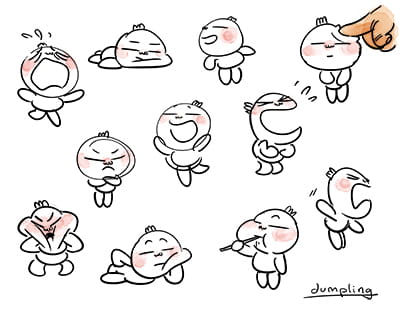 Shi brough the idea to Pixar in 2015 when the studio tasked her and a few other animators to pitch ideas for a new theatrical short. Although she was concerned Bao would be too dark of a story, Pixar loved it.
To create Bao, the team took special care to research the intricacies of making dumplings, taking several field trips to Chinatown and photographing the bite-sized morsels alongside different Chinese foods. Pixar also flew Shi's mom in from Toronto to host dumpling-making classes for the animators, who would record her kneading and folding the dough. "When you see the opening shot of the dumplings being made, those hands are my mom's hands," she said. "We almost just copied her techniques one-for-one onto the screen."
"It's good creatively to put bits of yourself into your work because that's what makes it feel authentic and unique and truthful."
Pixar has an internationally-renowned reputation for its feature animated films, boasting Toy Story, The Incredibles, Inside Out and Coco among its many credits. The company has also won Academy Awards for its animated theatrical shorts, including For The Birds, Tin Toy, and Piper, which was directed by fellow Sheridan alumnus Alan Barillaro (Animation '96). In short, working at Pixar is a dream job for any aspiring animation student.
Shi came to the company organically. After developing an interest in animation in high school, she reached out to several artists whose work she followed. They directed her to Sheridan's animation program to hone in on what aspect of the industry she wanted to pursue. "At the time, I didn't know if I wanted to be an animator or story artist," she said.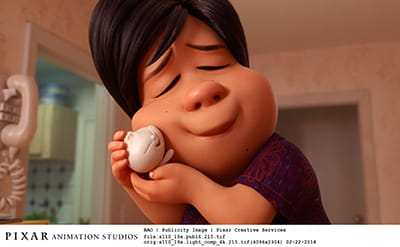 It wasn't until a second-year animation class taught by Nancy Beiman that Shi found her passion for storyboarding. "[Storyboarding] combines everything I love – drawing, storytelling, cameras, composition – all into one profession. I was like 'I wanna do that.'"
Shi first applied to Pixar's internship program during her third year at Sheridan. After being rejected, she was inspired to work harder and add more depth to her portfolio, leading her to be accepted to the internship the following year. She was hired by Pixar shortly after, and has since worked on features including Inside Out, The Good Dinosaur, the upcoming Toy Story 4 and Incredibles 2.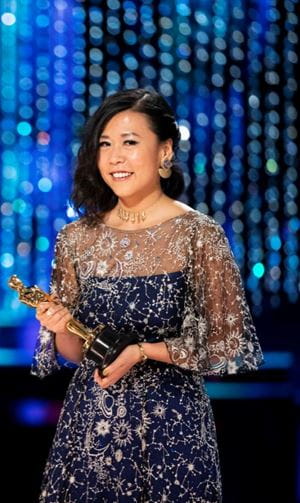 And much like Bao, Shi tries to inject a bit of her own personality in every project she takes on.
"I think it's really important – it's where you find the nuggets of truth in the work you create," she says. "It's good creatively to put bits of yourself into your work because that's what makes it feel authentic and unique and truthful."
As Pixar's first female director of an animated short, Shi was instrumental in laying the groundwork for future female animators. She's continued that path with Turning Red – the second feature Pixar film to be helmed by a female director.
Mark Mayerson, retired coordinator of the Bachelor of Animation at Sheridan, attests to her inspiration to current students.
"Women in the animation industry are still a minority, and there are relatively few in the top creative positions," he says. "Domee's success as a story artist and director at Pixar is doubly important for our women students, as she is evidence that there should be no limit to their ambitions."
Photo credit: Getty images
Originally published April 17, 2018. Updated March 7, 2022.